The Cairn App Helps You Find Cell Service In The Woods
You'll get 2 bars just over that ridge.
by Dave Baldwin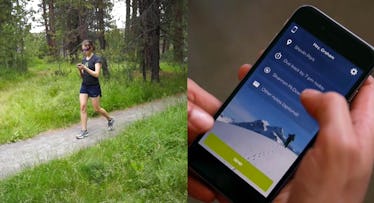 For every backpacker who'd just as well lock their smartphone in the glove compartment of their Subaru and wander off the grid for a month, there's another who would rather not get lost in the woods and eaten by a bear. For that second hiker, there's Cairn.
Cairn is a free iOS tracking app designed to keep you (and other outdoor enthusiasts like you) safe in the wilderness. It lets you do two main things: 1) Share and update your adventure itinerary via email with friends and family; 2) find cell coverage on the trail if you want to check in, call for help, or switch your starting RB at the last minute.
All you do before wandering out of coverage is enter your trip plan in Cairn: Where you're going, what you'll be doing (hiking, spelunking, bird watching, etc.), and when you're returning. Then you select an emergency contact and it emails the itinerary to them — so, consider your wife in the loop on the big Lake Sebago camping expedition. She can also see your progress canoeing across the lake in real time, and will receive automatic notifications from Cairn if you don't report home by the date noted in the original plan.
If you actually need to make a call once on the trail/in the middle of nowhere, simply pull up the crowdsourced topo map to see where others around you have scored service (or how many hours of trekking you are from getting a signal). Each blue dot in Cairn shows exactly where somebody else has checked in with coverage. Simply click on it and you'll see which cellular carrier they were using. You can also be a good outdoor Samaritan and help build said coverage map by noting where you are when you get a bar on your smartphone.
While you're on the move, the app uses GPS to track critical stats like how far you've walked/biked/skied, your ETA to a selected destination, or your elevation. And finally, when you get back to the car, just check in on Cairn, and it'll kick out another email to let your family know you're safe and sound. Although, if your kids were being brats all weekend, your spouse may have hoped you were eaten by a bear.
This article was originally published on