NES Classic Rerelease: Where You Can Buy the Best Nintendo Ever
The retro gaming console is finally back, but it's going to sell out soon.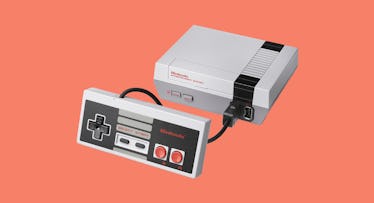 Today is the day the NES Classic finally returns to stores. After a year and a half of being available only on the secondary market (for exorbitant prices) the retro console, which comes pre-loaded with 30 classic games, is now available at select stores and online outlets. Unsurprisingly, units are expected to sell out quickly (if they haven't already) so now is the time to head towards GameStop, Best Buy, Walmart and Target stores or sites. ThinkGeek and Amazon should have some stock as well provided you get a move on.
If you remember playing the NES back in the day you likely won't need much convincing that, for $60, the HDMI-equipped console, is a worthwhile investment. But even if you aren't motivated by a nostalgia high the NES Classic could be an great purchase. The two included controllers are smaller than modern console controllers and have way fewer buttons. They are way easier for younger hands to hold and the games are way easier for younger minds to master. The included games have stood the test of time and are all family-friendly unless you find the barrel-smashing action in Donkey Kong to be gratuitous violent (in which case we can't help you).
Demand for this thing is going to be high, so you should try to snag one as soon as possible. If you are able to get your hands on one, have fun, but don't forget to go outside.
Every product on Fatherly is independently selected by our editors, writers, and experts. If you click a link on our site and buy something, we may earn an affiliate commission.