Build This LEGO Tree House to Relive the Best Parts of Your Youth
This adult tree house has lux touches you never had as a kid — like a toilet.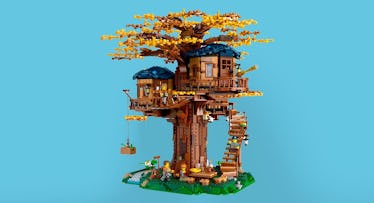 The allure of a tree house spans generations. If you had one growing up, it's likely a parent helped build it and maybe climbed in for some fantasy play. This Lego set takes that sense of adventure up a notch. With over 3,000 pieces that stand 14-inches tall when you're done, this tree house is more glamping than roughing it. The four min-figure family that plays here, including a set of children, can hang out at the base of the tree or walk up to any of the three buildings nestled within the tree's canopy. Collectively it's four levels of great detail that make this a display-worthy set you'll want to play with from time to time.
The set includes fun details at each of the four levels. At the base, you'll assemble a grassy plane complete with a winding stream. Here the family dines using a table, chairs, and a nearby cast-iron Dutch oven simmering over a campfire. The base of the tree includes plants like mushrooms, pumpkins, and flowers. There's also a discreet spot to hide a few translucent gems in a hole buried in the grass.
Winding up the sturdy trunk is a stairway with 14 steps leading to the master bedroom, which has a nice variation of windows built into the walls. The roof rests on top so it's easy to pull off and see the details inside. The floorplan leaves enough room for a bed with a clock, brush, drawers, a ship in a bottle, and binoculars. The bed has a hidden detail: you can remove the top to find a hidden underneath holding scissors. It's an homage to the fan who submitted the treehouse idea to Lego who is a hairstylist by trade.
The next structure has a great detail outside: a bucket just under the roof with some translucent 1×1 circles inside representing rainwater collected. Why? Because this tree house has a full bathroom. The smooth tiled floor has a wood barrel bathtub, shower, sink, and toilet complete with TP — all of this presumably using that rainwater from outside. But the star of the exterior is an operable rope crane that hooks onto a basket to bring up supplies, like vegetables, fruit, and a whole fish.
A rope bridge connects the bathroom to the last structure, the bedroom for the kids. The balcony here is the most detailed and generously sized with enough from for two figures to use the telescope. Inside is a pair of stacked bunk beds with finishes like a treasure map, a book, a flower under glass and microscope, and a dragonfly in a jar.
Getting into each of the structures can be tough, even with branches that ratcheting branches. Designers include a way to easily remove the top of the tree to give you easy access to the three structures below. Lego even included yellow and orange foliage, to replace the green, should you want to present the tree house in fall.
Elaborate? Sure. Will it lead you to build one in your backyard? Probably not. But while it's not the one you played in as a kid, it might just be the sort of tree house you wish you had now. And when adults have tree house on the brain, that's never a bad thing for kids.
Every product on Fatherly is independently selected by our editors, writers, and experts. If you click a link on our site and buy something, we may earn an affiliate commission.