Everything You Need to Create the Perfect Changing Station
The top gear to tackle the crappiest job.
by [email protected]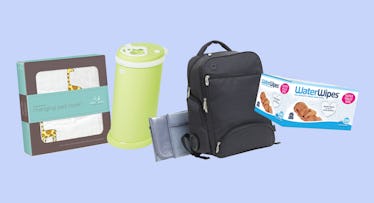 Becoming a parent means life gets better in indescribable ways — and also crappier in extremely literal ones. Your baby is a veritable poop machine, and as with any piece of delicate machinery, you want to operate it with the utmost efficiency in the safest possible environment. Which is to say, you'd better outfit that nursery with an optimized diaper changing station for babies. This list has everything you need to get started. You can worry about turning it into a rocket ship playhouse after you've endured your first accidental redecorating.
Changing Table: Delta Children Eclipse
The centerpiece of the diaper changing station is the changing table, a piece of furniture you'll think is superfluous until you remember you'll change upwards of 4,000 diapers before your baby is potty trained. This one is JPMA-certified for your kid's safety. It's also stylish, has plenty of storage for all those diapers, and comes in Espresso Cherry.
Changing Pad: Naturepedic Organic
It's pricey for an unglamorous item, but you want your changing pad all natural for your baby to lay on au naturel. Naturepedic is made of non-allergenic, chemical-free cotton fabric, filling, and support foam (no vinyl, polyurethane, PVC, phthalates, latex, or wool). It exceeds federal flammability standards with no added toxins, and has a food-grade polyethylene coating.
Changing Pad Cover: Aden + Anais Classic
You wouldn't buy a mattress without a mattress cover. You sure as hell won't get away with changing your kid's diaper on an uncovered pad. This one is tailored for a snug fit, ridiculously soft yet durable, and comes in a variety of patterns to suit your baby's discerning taste.
Diaper Pail: Ubbi Steel
However much you wish you could bottle that "new baby smell" is also how much you'll wish to confine the "terrible baby smells." Put it in a literal steel trap. Ubbi is best-in-class for capacity, ease of use, and keeping nurseries from smelling like bus terminals. Before you skimp, remember, this is a 2-to-3-year investment unless you pay someone else big bucks to potty train your kid … or move to Vietnam.
Disposable Wipes: WaterWipes
WaterWipes were awarded the National Eczema Association Of America Seal Of Acceptance and can be used on all of your baby's sensitive skin, not just the bum. Feel free to test the comfort yourself.
Diaper Cream: Boudreaux's Butt Paste
Boudreaux's diaper rash is an effective, gentle zinc oxide protectant that's free of harsh ingredients. Designed by a pharmacist and father of four — so you know it's been field tested — it will keep your baby irritation-free as you perfect your diaper changing speed technique.
Disposable Diapers: Bambo Nature
Bambo Nature has won awards for its superior absorption and baby- and eco-friendly materials. The only knock is the cost. But, as you've learned, diapers cost more than food no matter what. Might as well buy the best.
Cloth Diapers: Rumparooz G2
Save the cloth vs. disposable diaper debate for another day — for now, just understand your options and remember you'll still have to buy inserts for these reusable ones. Rumparooz G2 are comfortable, absorbent, easy to use, and customizable. And they're available in so many colors, just like your baby's poop.
Diaper Bag: XLR8
While there are plenty of quality diaper bags for dads out there, the XLR8 has designated space for everyone's vitals. Diapers and wipes in the interior pouch are kept separate from your laptop, tablet, and charging cables. Insulated pockets keep bottles and food fresh. There's even a 7800mAh power bank for juicing up your devices.
This article was originally published on