Buggyboard Is a Seated Platform That Turns Your Single Stroller into a Double
And it's even got a seat.
by Dave Baldwin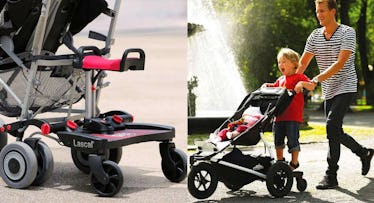 Any parent with two young kids knows the frustration of walking from point A to point B, especially if they only have a single-seat baby stroller. It doesn't matter how mobile that older sibling is, once they get tuckered out (or distracted, cranky, etc.) it becomes a painful game of "guess how many times we can stop and start before daddy loses his shit." Now imagine if that same kid could simply ride on the back of the stroller and enthusiastically wave to passersby while cruising through the mall? Better, right? BuggyBoard is a stand-on stroller platform with a seat that makes this a reality.
Yes, all that cash could be invested in a double-wide stroller; it's a fine option. But for those who'd rather not lug around all that extra mass (or drop all that extra cash), there's the four-pound, $70 BuggyBoard. It comes in two sizes (the Mini and Maxi) and uses universal fittings to easily snap on and off of most strollers, no tools required (their website will even guide parents through the process based on which stroller they own. The BuggyBoard is designed for kids ages two-to-five-years-old (and up to 66 pounds) and has both a suspension system and anti-slip platform to keep kids from getting tossed about on bumpy sidewalks. Alternatively, there's an attachable BuggyBoard Saddle seat (sold separately) that lets kids take a load off.
This article was originally published on