Bugaboo's New Modular Luggage Set Snaps Together Into One Giant Roller Bag
Getting through the airport with kids will never be easier.
by Dave Baldwin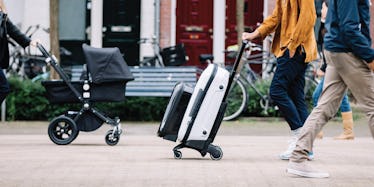 The Dutch stroller specialists at Bugaboo know a thing or two about moving kids around. So it stands to reason that their first foray into luggage would be equally parent-friendly. From the looks of it, they didn't disappoint. The Bugaboo Boxer is a modular 4-piece luggage set that snaps together so you can easily push (or pull) the whole damn thing through a busy airport terminal, even with kids falling off your arms.
It's sold as a full set or as individual piggybacking pieces. Here's what's included:
The Bugaboo Boxer Chassis: Essentially, a detachable luggage cart with telescoping handlebars that collapse at the touch of a button. It can either be pushed on 4 wheels or pulled on 2, as the rear wheels fold up and lock into place using a hidden foot lever.
The Bugaboo Boxer Travel Case: This is your big daddy checkable polycarbonate hard shell for longer trips. It's roughly 30 x 19-inches and boasts plenty of room inside with dual zippered compartments. It locks right into the chassis to become a pretty standard roller bag.
The Bugaboo Boxer Cabin Case: Your weekend warrior/business traveler carry-on, the overnight Cabin easily fits in the overhead bin, comes in red, black, or white, and attaches to either the front of the Travel case or directly to the chassis. In fact, you can actually lock two Cabin cases to the chassis if you're toting one for each kid. Or throw your briefcase or diaper bag on top and lock it down with the attached tether. Both cases include built-in TSA-approved locks and external hooks, so you can hang even another diaper bag on the front of them.
Bugaboo Boxer Inner Bag: This is pretty much a removable "multi-purpose liner" that comes in both cases and can be used as a separate daypack.
Other sexy features include a luggage strap to secure your kids' coats and an easy-to-access organizer for your laptop or phone that clips to the outside of the chassis and can be carried, much like the kids you're toting through the airport, over your shoulder.