Brio's Smart Train Set Unboxing
During this week's Fatherly "Toy Review," editor-at-large Joshua David Stein reviews a toy called the Smart Engine Set with Action Tunnels from the Swedish company Brio, which is the classic wooden toy train company from our childhood. ADVERTISEMENT The Brio Smart Engine Set with Action Tunnels is a 17-piece set that boasts an electric train,... View Article
by Fatherly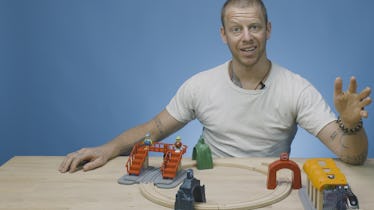 During this week's Fatherly "Toy Review," editor-at-large Joshua David Stein reviews a toy called the Smart Engine Set with Action Tunnels from the Swedish company Brio, which is the classic wooden toy train company from our childhood.
The Brio Smart Engine Set with Action Tunnels is a 17-piece set that boasts an electric train, wooden track, elevated walkway, and a trio of plastic bridges. The train and each bridge have smart internal tech that allows them to interact. Each color-coded bridge has a specific action associated with it: choo-choo, reverse, and stop. Once the train passes through a bridge, it will perform the action. Brio also sells a number of other modern add-ons, such as smart washing stations and track switchers that correspond to the trains.
Prior to opening the box, Joshua was worried that Brio might have fallen into the old "take a good thing and screw it up" trap, as so many toy companies do during their race to remain relevant. But Joshua happily found that his worry was unwarranted. The battery-operated train is so easy to operate that a 3-year-old could do it, and the track works with previous models — a generous act by the company.
Moreover, Joshua discovered that while many beloved toys lose what made them special because companies try to modernize them by shoving apps and QR scanners inside them, Brio simply enhanced the train experience by using a touch of modern tech to make the set do what it's always done, just a little bit better.