This Agile Toy Car Helps Kids Develop Their Motor Skills
Plus, it's just a crazy-fun toy.
by Donna Freydkin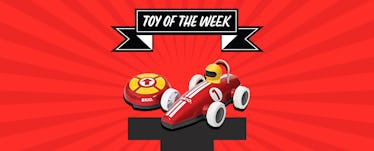 Sure, remote-control cars are fun. You press a button, or a toggle a controller, and things on wheels go really, really fast. But there's also developmental value to toys that move. They teach kids about motion — and cause-and-effect: Not only that when you press a specific button, something specific happens. But that once an object has velocity and direction, infinite variables come into play (from the dining room furniture to the family pet). No matter your age, remote-control cars are high-reward toys — meaning, just plain crazy fun. But they also let the littles practice their fine and gross motor skills.
Here at Fatherly, we're big proponents of toys that do the least, so imaginations have to work that much harder. But we're also fans of toys that let kids have a good time. And that's why we dig Brio's remote control car. The controller has four big buttons: Forward, reverse, turn right, and turn left. So when your kid presses the button, something happens. Cause-and-effect in action.
Added bonus: When toddlers (and this toy is meant for kids ages 2 and up) hold a toy car, or push it along, they are, unbeknownst to them, working hard at hand-eye coordination, manual dexterity, and visual tracking, which is the ability to follow an object with our eyes as it moves across our field of vision. The car itself is durable, so unlike some of its cheap plastic counterparts, it won't fall apart the first time your toddler slams it into the door. Or the wall. Which will happen often.
Listen, at the end of the day, a toy is a toy is a toy. It won't turn your toddler into the next MacArthur "Genius Grant" recipient. But some toys are much better than others: They're both thoughtful and delightful. This is that toy.
As for Brio, it's a great brand that was founded in 1884 in Osby, in southern Sweden, and makes tons of wonderful toys, most notably its trains.
Every product on Fatherly is independently selected by our editors, writers, and experts. If you click a link on our site and buy something, we may earn an affiliate commission.
This article was originally published on