This Brilliant Smart Hub Makes You the King of Your Smart Home
Now, you're the boss of all your smart devices.
by Jon Gugala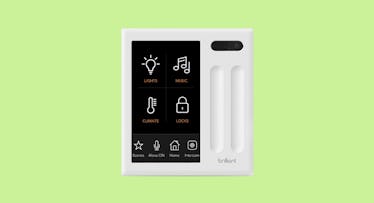 A smart home is only as intelligent as your ability to manage it. And that's why we found the one smart home hub you need to control all your smart home devices.
For smart homes struggling to unite all their devices under one banner, you need something big. Something powerful. What you need is a General Eisenhower to reign in your running-amok units. For this, our pick is the Brilliant BHA120US-WH2 Smart Home Control 2 universal wall hub. Not only is it a true sanity saver by eliminating ugly knotted wires and multiple hubs, but it's also sleek and good-looking.
It is, pardon the pun, a smart solution to untangle your home's smart clutter. Lights. Temperature. Music and speakers. Brilliant's hardware connects with nearly all of the popular smarthome devices throughout your residence, creating a single point from which each can be controlled. Sonos, Nest, Ring, Hue, and Ecobee are just a few it supports, with a full list here. You can choose from the starter model, which controls one light all your smart devices, or the top model, which manages four lights and all your smart devices.
Besides the disparate devices, it also integrates seamlessly with your home's system, including Amazon's Alexa and Google Assistant. Once connected, all those devices can then be controlled through Brilliant's
proprietary app, allowing you to regulate individual or group settings whether you're across the room or across town.
Better yet, it's a child monitor, because you connect multiple Brilliants, and thus connect multiple rooms. Yes, this means you need to buy extra hubs (which sort of sucks), but because every Brilliant includes a microphone and camera with privacy shutter, you can make sure your kids really are doing their homework or cleaning their rooms.
As an added bonus, it also smartens up some dumb devices. Waiting to upgrade to smart light bulbs? In the meantime, it instantly upgrades your fixtures, allowing your regular fixtures to be controlled like the rest of your devices. Because each unit itself can connect, it works well when deployed throughout your home. Install one upstairs and another in the basement, creating access points with the bonus of having an in-home wireless intercom system. Speaking of installation, it's easy. You simply put in place of any standard light switch, with no extra wiring required.
Not at home? Use the app to have both control and eyes on your domicile. You can see who's at your front door by connecting to the Ring and letting them in with a tap via August and other smart door locks.
Finally, its smart design includes a motion sensor to turn lights on and off, which, like your other smart home devices, will save you more money the longer you use it. With the tangle of smart devices that are running unchecked through your home, the Brilliant hub cracks the whip to order them all. We can't think of a smarter idea than that.
Every product on Fatherly is independently selected by our editors, writers, and experts. If you click a link on our site and buy something, we may earn an affiliate commission.
This article was originally published on