How To Get Your Kid's LEGOs Off The Floor And Onto The Wall
by Dave Baldwin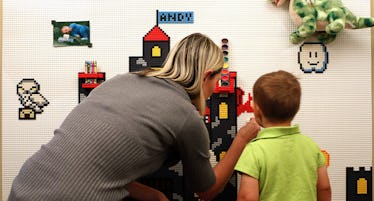 Hurling stray LEGOs across the living room pretty much negates that big lecture you gave on "controlling your temper." If you had a few Brik Tiles, you could just calmly affix all those errant bricks to the wall. The this-is-so-simple-I'm-an-idiot-for-not-doing-it-first LEGO accessories allow your kid to decorate their room while decluttering the floor at the same time.
MORE: The Best LEGO Accessories to Make Your Bricks Bend, Fly, and Move
Brik Tiles — 10-inch x 10-inch adjoining plates that are compatible with LEGOs — are the best kind of wallpaper for kids. Not only can they change the pattern on a whim (as they're wont to do), but you don't have to break out the paint thinner and putty knife to do it. Each Brik Tile has an adhesive back that can be reused multiple times and stuck on everything from the fridge to the toilet (for target practice, of course). And while your kids may mostly create fun pixel art using colorful 1-inch x 1-inch pieces, you can add on hook-like pieces for pictures, keys, or small shelves.
Don't feel too left out. If your wife won't let you cover the bedroom in LEGO Batman paraphernalia there's also a "Structure Kit." Put it up in the office, entryway, or kitchen to hold the mail, pens, business cards, and sunglasses. Brik Tiles don't ship until October, (and remember, they're LEGO compatible, not official gear), but you can preorder now and up the resale value of your home.
This article was originally published on