Pumping Sucks. The Best Breast Pumps Make It Easier
Whether you go electric or manual, these are the best ones.
by Lexi Dwyer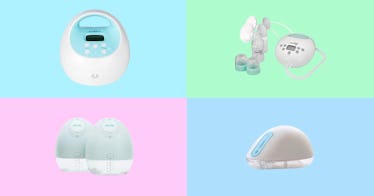 Babies eat. A lot. For mothers who are able to nurse, the American Academy of Pediatrics currently recommends that infants be fed breast milk exclusively for the first six months after birth. The best breast pumps enable nursing mothers to pump milk without being tethered to wires, tubes and bottles, and wearable breast pumps free them up to feed tiny humans while also doing other stuff. Finding the best breast pump for working moms is pretty crucial, because it enables them to actually multi-task while also producing more milk in less time.
Electric breast pumps are the most common choice among nursing mothers because they have a motor that does the work for them. Moms can opt for a battery-operated pump, or one that plugs into the wall, or both. To get the most milk in the least amount of time, women can get a double pump, which draws milk from both breasts simultaneously. Many of today's fanciest pumps have something called a closed system: It means that milk doesn't circulate through tubing or the motor of the pump, thus keeping things simpler and more hygienic.
If mom is primarily breastfeeding but needs a pump to use on occasion, a manual one is a good option. For moms who prefer to operate in hands-free mode while at work or while playing with the kid, they can choose a pump like the Willow that is spill-proof and fits directly into the bra, without any dangling wires.
The Best Breast Pumps
Every product on Fatherly is independently selected by our editors, writers, and experts. If you click a link on our site and buy something, we may earn an affiliate commission.
This article was originally published on