The Bowlus Road Chief Endless Highway Is The Tow-Behind Trailer of Our Dreams
This beauty is sparking some major wanderlust.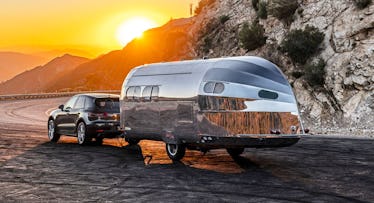 Bowlus Road Chief
After supervising the construction of the Spirit of St. Louis, Hawley Bowlus decided to design and produce a new line of teardrop trailers, precursors to the modern RV. The first Bowlus Road Chief rolled off the line in 1934, but the company failed a few years later while Airstream, with the help of a former Bowlus employee, managed to survived.
Nearly a century later, an entrepreneur revived the brand and gave us the Bowlus Road Chief Endless Highways, a luxury aluminum trailer with a slew of premium features aimed at younger road warriors. And, man is it purty.
The trailer is 26-feet-long, large enough for four people to dine and sleep. It contains a galley kitchen with stainless steel appliances, two sofas that can convert to twin beds, a dining room table with built-in laptop charging, a teak shower, and a bedroom that can be arranged as either a true king or dual twins beds.
To appeal to tech-savvy travelers, the Road Chief comes equipped with a cellular booster, router, and private WiFi network. It also has a lithium iron phosphate power system that the company claims lets users spend a week off the grid while running power to the outlets.
The hot water and floors are heated, and there's an A/C and heater to keep everyone comfortable no matter how hot or cold it is outside.
But the Road Chief's best feature might be its weight. At 4,000 pounds, you don't need a powerful pickup truck to tow this thing around. Most crossovers and SUVs can do the job, as can some electric vehicles like the Tesla X.
All that lightweight luxury doesn't come cheap. The Bowlus Road Chief Endless Highways edition starts at $185,000. But for discerning travelers who nevertheless appreciate life on the open road, it's the most comfortable option on the market.