5 Great Bourbons Under $60 That Are Meant to Be Sipped Neat
Don't you dare mix 'em with anything but a few drops of water.
by Nicholas McClelland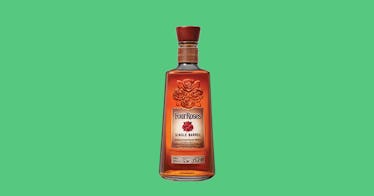 The dishes are done, the kids are in their beds. It's time to punctuate the day. If you're like us, you want to treat yourself to a nice glass of whiskey. No ice, please. Maybe a few drops of water, but it's nice to let the beautiful dram roll around the palate as you contemplate where this day has lead you and what you hope tomorrow will bring. If that's your style (or you know someone who might appreciate a glass), here are five flavorful bourbons for sipping, not mixing, under $60. Imbibe them slowly and give each mouthful the old Kentucky chew as you enjoy the flavor. Or not. We're not the boss of you.
Russell's Reserve Single Barrel
Sure, Russell's Reserve's Single Barrel is made from the same mash bill and aged right alongside the regular Wild Turkey. But master distillers Jimmy and Eddie Russell specially select the barrels that emerge baring their family name and with a collection 95 years of experience, this father and son duo knows a thing or two about bourbon. The whiskey that makes the grade spends around eight years in "alligator charred' American white oak barrels that give it flavors of vanilla, spice, fruit, and toffee. It's love at first sip.
Maker's Mark 46
To create their 46 expression the folks at Maker's Mark start with their classic bourbon and then add ten seared French oak staves to the barrel for nine more weeks. That short spell with the extra wood ratchets up the complexity and flavor of classic Maker's. Deep notes of wood, cherry and vanilla should move this one to the top of your shopping list.
High West American Prairie Bourbon
Peppery and rich, High West's American Prairie Bourbon is a bottle that should have a permanent spot on your bar. Notes of nougat (yeah, nougat,) fruit, and a buttery corn make it a magical mouthful. At less than $35, don't just buy it by the bottle — consider picking up a case.
Four Roses Single Barrel
Four Roses is a brand that flies well beneath most superficial whiskey snob's radar. Which in some ways is a shame, but for the open-minded, the single barrel presents a hard to find value in whiskey world. You can still pick up a bottle for less $40 and you'll be glad you did since it boasts notes of cocoa, cherry, toffee and caramel.
Woodford Reserve Double Oak
The wood is the thing. Thats's how whiskey gets much of its flavor and as you can deduce from the name, Woodford Reserve Double Oak gets a lumber-y sequel during the aging process. After aging for a spell in traditional charred oak barrels this brown booze does a little graduate degree in a toasted and lightly charred variant giving it full, rich flavors of oak (obviously,) fruit, nuts and spice with a long lovely finish that leaves your palate begging for a redux.
This article was originally published on