5 Refreshing Bourbon Cocktails to Make This Summer
They're easy to make, refreshing, and best sipped slowly in some small patch of shade.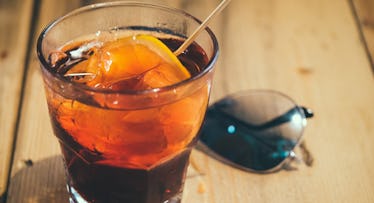 Few things hit as right or taste as refreshing in the summertime as a well-made bourbon cocktail. Sure, gin and tonics, as well as vodka- and rum-based drinks, often get the shiniest spot in the summer months. But the classic Kentucky spirit, which mellows over years in the hot Southern climate, is especially fitting on the warmer days. When stirred into a cocktail, it strikes the right balance between bracing and oh-god-give-me-another. Here are five bourbon cocktail recipes that are simple to mix and ideal for sipping slowly when the temperatures threaten to overwhelm even the most resilient dad.
1. The Boulevardier
What is it? A cocktail that is both substantial and refreshing. Basically a Negroni made with whiskey in lieu of gin.
Try it with: Russell's Reserve for its sweetness and subtle herbal notes.
How to Make a Boulevardier
Ingredients
2 oz bourbon
3/4 oz Campari3/4 oz sweet vermouth
Directions
Stir bourbon, vermouth, and Campari over ice and strain into a chilled glass (optional large ice cube) garnished with a Luxardo maraschino cherry.
2. The Bourbon Arnold Palmer
What is it? One of the easiest summer cocktails to whip up, this is classic 50/50 mix of lemonade and tea plus a couple of ounces of spirit. While Mr. Palmer preferred his with vodka, we think bourbon makes it better.
Try it with: Four Roses Small Batch. It's soft oak and fruity sweetness add depth and flavor.
How to make a Bourbon Arnold Palmer
Ingredients
2 oz bourbon
2-3 oz of lemonade 2-3 oz of iced tea
Directions
Pour everything over ice in a highball glass.
3. The Peach Whiskey Sour
What is it? A fresh spin on the classic sour, elevated with fresh juice and the addition of peaches for extra depth. Mostly phoned in by bartenders, the whiskey sour is one of those drinks that doesn't get the respect it deserves. But when it's made well, it's a tasty summery beverage.
Try it with: Bulleit 10 Year. The bourbon brings a nice body to this crisp summer cocktail.
How to Make a Peach Whiskey Sour
Ingredients
2 oz bourbon
3/4 oz simple syrup 1 oz lemon juice 1 1/2 oz frozen pureed peaches
Directions
Shake all ingredients over ice, strain into a glass with one large ice cube and garnish with a slice of peach.
4. The Kentucky Buck
What is it? Made with ginger beer, bourbon, lemon juice, and bitters, the Kentucky Buck is a refreshing summer drink perfect for kicking off a Friday happy hour. It's also one hell of a refreshing reward for mowing the lawn.
Try it with: Wild Turkey Rare Breed. At 116 proof, it gives the Buck a little extra kick.
How to make the Kentucky Buck
Ingredients
A few dashes of Angostura bitters
1/2–3/4 oz fresh lemon juice 2 oz bourbon Ginger beer
Directions
You could make this drink in a shaker, but we start with a highball glass full of ice add bitters, lemon juice, bourbon and top off with ginger beer, stir and garnish with a strawberry.
5. The Mint Julep
What is it? The classic derby cocktail. Calendar be damned. Bourbon, mint, club soda, and simple syrup combine for a sweet, bracing, and very drinkable concoction.
Try it with: Woodford Reserve. Thanks to its rich vanilla notes, it's our go-to bourbon in a julep.
How to Make a Classic Mint Julep
Ingredients
Fresh mint
1/4–1/2 oz simple syrup 2 oz bourbon Club soda
Directions
In either a silver cup or a highball glass, muddle two or three mint sprigs with a dash or two of simple syrup, fill the glass with crushed ice (a must), add bourbon, top with club soda. Slap a mint sprig in your hand once or twice to release extra aromatics from the mint, and then add it as a garnish.