The Boundary Errant Is the Durable Modular Backpack We All Need
There's not much that this bag can't do or won't survive.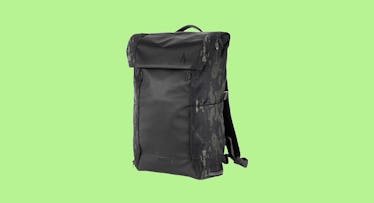 There are super-durable, if plain backpacks for men, the kind that can be overstuffed, thrown around, and otherwise abused. Then there are the super-useful backpacks, that add features and compartments to the standard "sack with straps" format and are best for work. The Errant from Boundary Supply is a beautiful blend of both. This thing is a camera backpack, a laptop backpack, a hiking backpack. It's a whatever-you-want-it-to-be backpack because it's totally modular.
First, let's talk about durability. The 24-liter Errant is made from a technical custom fabric called X-Pac. It's waterproof—the zippers are too—and made with Kevlar fibers that are strong and resistant to slashes. On the interior of the bag, there's a water- and stain-resistant nylon liner to protect your backpack if those leftovers you pack for lunch spill.
With that out of the way, we can talk about pockets. Oh boy, are there pockets. The standard tech pockets fit laptops up to 15 inches and tablets up to 13 inches. There's a water bottle sheath as well because hydration is important no matter what you're up to.
Speaking of water, the bottom of the pack is a six-liter wet-dry pocket that's great for shoes, dirty laundry, or anything else you want to keep separate from the main compartment. There are four interior mesh pockets that expand and contract to fit the odds and ends you might need to bring along.
On the outside of the pack, there are semi-hidden pockets that are great for commuters who need to grab something in a hurry without opening the main compartment.
The feature that really sets this pack apart, however, is the interior dock. It's compatible with a slew of accessories—camera cases, dry bags, dopp kits, key clips, and the like — that securely and magnetically snap into its dual connection points. The dock provides an elegant way to store and secure all kinds of gear.
The dock is what makes the Errant fantastic for people who want their bag to serve more than one purpose. You can easily switch out your photo gear for your hiking gear for your everyday carry gear using those modules, doing in seconds what would usually be a much more time-consuming task.
The bottom line: if you ask a lot of your backpack in terms of durability, flexibility, or both, the Boundary Errant is definitely worth your money. Oh, and did we mention that it's one good-looking beast, too?
Every product on Fatherly is independently selected by our editors, writers, and experts. If you click a link on our site and buy something, we may earn an affiliate commission.
This article was originally published on