The Boon Squirt Baby Spoon Helps Make Mealtime Less of a Mess
This squeezable feeding spoon is a Fatherly Favorite.
by Fatherly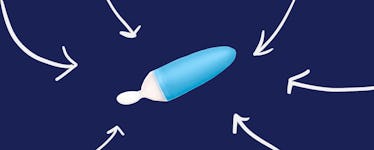 When you make the move to pureed food, things get messy. The stuff spurts everywhere, sticks to your baby's face, covers bibs and bodies and high chair tables in so many splatters that everything starts to represent an expressionist's workshop. This is expected. But it's also not the best, especially when you're traveling. That's why we love the Boon Squirt so much. The chubby utensil is one of our favorite weapons in the baby feeding arsenal, as it not only takes (some of) the mess away from mealtime but also makes it easier to feed your child with one hand.
The Squirt is a tiny spoon affixed to a big, hollow, squeezable handle. If we're being honest, it's vaguely slug-like (one big fan even said it reminded him of the brain bug from Starship Troopers). Nevertheless, it's a big help. Its handle can fit three ounces of pureed baby food. The front of the spoon can be unscrewed to reveal a wide mouth that you can easily fill with liquified baby carrots and other such pureed foods.
When it's time for feeding, you simply give the handle squeeze and a bite-sized dollop of baby food makes its way to the small, baby-mouth sized spoon head. Bring the airplane into the hanger and repeat the process for the next bite. It's as simple as that. The silicone spoon is both BPA and PVC-free as well as dishwasher safe and comes with a cap that seals and protects it on the road. It can be boiled and sanitized, too.
That's it. The Squirt doesn't feed your kid for you or pulverize sweet potatoes into mush while you sit there. It's not tracking how much they eat or how many yawns they take while they're eating. It simply allows you to feed your baby one handed, thus cutting down on the mess, making meals at home and on the road a bit easier. "We've used this every day since we discovered it," gushed one dad. "It's simple, easy to clean, and makes feeding our kid a bit simpler." That's why we love it, too: Like all the best parenting gear, it makes one small parenting task a bit less frustrating. And at eight dollars a pop, it's not too bad to buy a few spares.
This article was originally published on