5 Bomber Jackets for Kids Who Loved 'Captain Marvel'
They make great gifts for the newly minted Carol Danvers superfan in your life.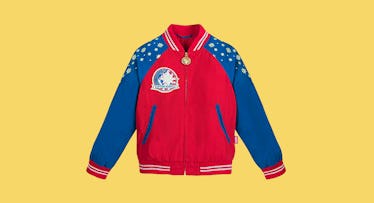 Captain Marvel is a lot of things: box office smash, Iron Man explainer, '90s music nostalgia vehicle, Avengers: Endgame foreshadower, and, most notably, the first film in the MCU to feature a female superhero as its protagonist. That superhero, Brie Larson's Captain Marvel, is the kind of character that girls and boys will want to emulate. She's brave. She's strong. She's smart. She's pretty great with cats.
But while Captain Marvel's maroon and blue bodysuit is a great look, it's probably not something you'd want your kids to wear to school. A better idea is to let them dress like like Carol Danvers, Air Force pilot and total badass even before she absorbs the superpowers that turn her into Captain Marvel. We found five jackets that Captain Marvel-loving kids will love to wear.
Up and Away Boys' MA-1 Flight Jacket
This 100 percent nylon jacket is nice and swaggy (and shiny) It features a golden airplane zipper, pockets with snap-close flaps, and a mix of incongruous patches adorned with logos of everything from NASA to Blackhawk Air Support to the U.S.A. Jump Team. It's also available in a huge range of sizes, from 2T to 14, the equivalent of a kids' large.
Alpha Industries Boys' MA-1 Bomber Jacket with Patches
The standard olive green nylon outside of this jacket gives way to a neon orange polyester lining, a stylish touch if there ever was one. It also two hand pockets, a zip-up compartment on the left arm, and an elastic waist and cuffs for a snug fit. Patch designs include an American flag, Airborne eagle, and Apache helicopter. It's advertised as being for boys, but in the spirit of the movie you can and should toss that label aside if your daughter would love this jacket.
Carol Danvers Women's Jacket
As the only officially-licensed jacket inspired by the movie, this jacket has some authentic touches, namely a C. Danvers nameplate and Captain Marvel-specific patches, that you can't find in other jackets. It also has two front pockets, button-up cuffs, and a drawstring that tightens around the midsection. Unfortunately, it's only available in adult women's sizes. Still, if you have an older kid who can fit into one of these it's hard to go wrong with an official piece of merchandise.
Captain Marvel Jacket for Kids
Of course, you might have a kid who thinks olive green isn't flashy enough. This red, white, and blue jacket, with its star-spangled shoulders and broad Captain Marvel logo, does not have that issue. A golden Captain Marvel logo zipper and ribbed neckline, cuffs, and hemline are the finishing touches on this flashier piece of outerwear.
Boeing Green Nylon Youth Flight Jacket
Because it's from Boeing, this jacket comes with patches that pay tribute to real Boeing planes: the KC-46A Pegasus, F/A-18E/F Super Hornet, CH-47F Chinook, AH-64 Apache, and F-15E Strike Eagle. It has a nylon outer shell and goldtone zipper, but maybe the coolest thing about this jacket is the polyester lining printed with an aeronautical map of Washington state–home to Boeing headquarters.