8 Board Games For Adults That Will Amp Up Your Next Game Night
Whether you're looking for a game to test your trivia smarts or just offer some NSFW fun.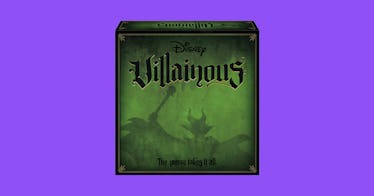 There's nothing like a little healthy competition between spouses or friends. What better way to pit you against one another — and see who might lose their cool and sweep the pieces off in one angry gesture — than a board game. Yes, your days are likely spent playing some family board games. But, while we have no problem with a quality game of Monopoly, Mouse Trap, or Shoots and Ladders, that's not what this assortment of board games is for — it's for you to enjoy with other adults, with maybe a whiskey in hand. Some are trivia-based, some are, let's face it, focused on seeing who can come up with the best swear word or sex reference, others are just a good time. All are a fun way to spend an evening after the kids have gone to bed.
Pros: Most of the villains featured, including Captain Hook and Jafar, are from older Disney movies, so there's also the nostalgic fun of reconnecting with characters that you met at an impressionable age but haven't thought about in a while.
Cons: An adult board game night is a chance to escape children's characters, and if that's a chance you don't want to miss this isn't the game for you.
Pros: It's a game that appeals to trivia diehards but doesn't require you to be one in order to be competitive.
Cons: Those used to the simplicity of Trivial Pursuit may not be crazy about the more complex gameplay and scoring system.
Pros: Codrenames is a social game that, thanks to the quick gameplay and complex, unique challenges of each round doesn't get old quickly.
Cons: You need at least four people to play, so you can't really kill time on a rainy afternoon with just one or two other people.
Pros: This updated edition is a great value, as it incorporates expansion packs that were previously sold separately.
Cons: This is a pretty technical game with a steep learning curve that's even steeper if one of the people playing is unfamiliar with the world of Thrones.
Pros: It's nice not having to set up or clean up any cards, boards, or pieces, and the sheer number of words means you can get a lot of use out of this game.
Cons: The audible timer on this electronic edition was too loud and annoying to some players who were used to analog Catch Phrase.
Pros: It's popular enough that chances are good you have friends who already know how to play, which is super helpful to other people trying to pick up the game. And as for the gameplay itself, it's easy to pick up but difficult to master, with ample opportunities for dealmaking and subterfuge.
Cons: Dice rolls can have a disproportionate effect on the outcome of the game, torpedoing even the best-laid plans. This is probably a good thing overall, but it can leave you feeling cheated if you're stuck with a bad roll.
Pros: The voting has a fun wrinkle. For every vote you receive you get to guess who voted for you. Guess right and it's confirmed. Guess wrong and you'll never know. This twist makes it a much more compelling game.
Cons: This game really only works with a tight-knit group of friends, so don't play it when you're getting to know new people.
Pros: Gameplay is easy and intuitive, so it's a great game for those game nights when you just want to turn your brain off for a few hours.
Cons: This game doesn't depend on strictly right or wrong answers, so if you're used to the objective truth of trivia games you might find yourself frustrated guessing the opinions of the masses.
Every product on Fatherly is independently selected by our editors, writers, and experts. If you click a link on our site and buy something, we may earn an affiliate commission.
This article was originally published on