BMW Unveils Its First Electric Kick Scooter
The Motorrad X2City has a top speed of 15 mph and can go 22 miles on a single charge.
by Dave Baldwin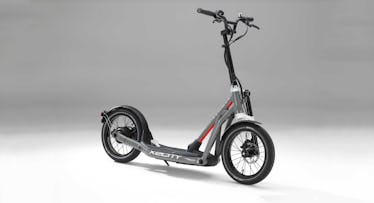 If BMW stands for "Bus Metro Walk," or so the old joke goes, then it may be time to add an "R" ⏤ for "Ride." The German luxury car manufacturer recently announced that it's getting into the electric scooter game and their new BMW Motorrad X2City Electric Kick Scooter is slated to hit congested city streets this December.
While BMW already manufactures both bikes and motorcycles, the X2City represents the company's first foray into zero emissions, e-scooters targeted toward urban commuters. Or, since it folds up to fit in a car trunk, suburban commuters ready to ditch their ride at the city's limits or first sign of stop-and-go traffic. The electric scooter weighs 44-pounds, hits 15 mph, and has a range of 15-22 miles on a single 2.5-hour charge of its 408 Wh lithium ion battery.
ALSO: The Best Scooters For Kids & Adults
If the battery goes dead on the ride home from the office, no problem. Just channel your inner Mike Vallely and kick scoot that bad boy back the house. It works fine sans battery. In fact, with five speeds settings, the electric motor doesn't even kick in until you break 3.7 mph. The X2City rocks pneumatic tires, front and rear disc brakes, and brake lights. There's also a built-in micro-USB port to plug in your phone.
While considerably less than an actual BMW, the X2City still isn't cheap. It'll run around $2,850 and come with a 48-month warranty. In another twist, it'll also be sold outside of official BMW dealerships (motorcycle or otherwise) at select bicycle shops. Shops that you'll, no doubt, easily be able to get to by bus, metro, or walking.