6 New High-Tech Baby Gadgets Parents Need to Know About
From a smart tracker that makes it easy to log feedings to an intelligent car seat that gives parents peace of mind.
by Fatherly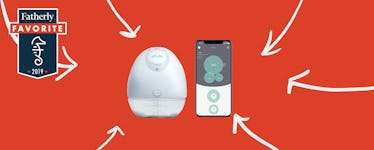 "Smart" gadgets aren't always the brightest. Often, the high-tech products serve as solutions to problems that don't really exist (hello, brushstroke-tracking toothbrush) or make matters far more complicated (we see you, Wi-Fi connected smart toaster). But, sometimes, smart products really are intelligent options that actually help improve upon existing products — or provide some extra safety or insight that help you make more informed decisions. Such is the case with these six pieces of parenting gear. All of them are smart in some way, yes — one, for instance, helps busy parents get a better handle on keeping track of of bottle feedings; another offers a bit more peace of mind by ensuring a child is safe in their car seat. But, more importantly, all are sound pieces of baby gear that work well and just so happen to have excellent, smart features that help make parents' lives a little bit easier.
The Blue Smart Mia
The BlueSmart Mia Smart Baby Feeding System is a sleeve-and-app combo that slips onto most baby bottles to track the content's temperature, your child's feeding, and a host of other data, including alerts for milk expiration, meal times, and more. Once connected, the proprietary app monitors and records that data, which can be shared with your pediatrician on your next visit. For parents that are especially concerned with growth of undersized or premature infants — or anyone tired of logging feedings by hand — it's an important tool.
Hatch Baby Rest
This combination of nightlight and white noise maker is so handy that we're amazed no one thought of it sooner. Controlled via an app from your phone, you can select multiple hues, all of which have been shown to aid in your child's circadian rhythm, while white noise's benefits, backed by science, allow for deep, restful sleep all through the night. We especially like its swappable coverlets, which are a fun way to customize its appearance as he or she grows older.
Cybex Sirona M
All car seats are engineered to precise standards for safety, but the Cybex Sirona M has both slick engineering and a smart component to give you more info while in the front seat. The five-point safety harness, connected to an app on your smartphone, offers alerts for too hot/cold temperatures, stretch reminders on long road trips, and, most importantly, a warning should the seatbelt be unbuckled. For this blend of tech and function it's won gobs of awards, likely being a harbinger of future child safety in the car.
Nanit Plus Baby Monitor
If you're willing to take the leap into high-tech baby monitoring, the Nanit Plus is a rather revolutionary piece of parenting technology. The camera provides an overhead view of a baby in the crib and it has two-way audio and the ability to play lullabies. But the real killer spec is it's suite of sensors, which keep a watchful eye on not only the baby itself, but also his or her sleep patterns. The tech notes whenever the baby is awake or asleep, how long it takes them to drift off, and how many times someone goes in to check on them. It then crunches all the data to provide sleep advice based on gathered results.
Elvie Pump
The world's first silent, wearable breast pump is perfect for your partner, who is heading back to work any day now. Worn under her favorite sports bra (and under the rest of her clothing), the Elvie Pump toils away and cleans in a pinch. It's also incredibly versatile: a two-phase action is adjusted over seven intensity settings and recharges in two hours via micro-USB. An app allows her to monitor output and control the unit outside her clothing.
Beaba BabyCook Neo
We've been longtime fans of Beaba for its reliable cooker/blender combos. But the one qualm we had with the Original was its use of plastic, which could break and discolor over time. The Babycook Neo, crafted from stainless steel, corrects this, while bumping up the volume it can handle (from 3.7 cups to 4.7 cups). Nevertheless, it still steams incredibly fast (15 minutes) and blends as smooth for healthy, homemade baby food that is super easy to make and store.
This article was originally published on