Blockaroos Are the Best Building Toy You've Never Heard Of
Move over, Mega Bloks. Step aside, Magnatiles.
by Joe Jackson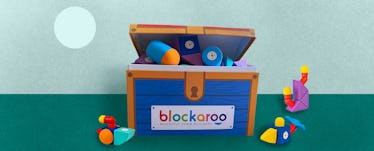 Finding common interests with your kids can be tough, especially when they're toddlers. Luckily, children's STEM kit company Blue Marble created a toy that can hold toddler and adult attention alike for hours: Blockaroos. This assortment of waterproof, floating, sturdy foam and plastic bodies is surrounded by swiveling magnetic attachments on one, two, or four of their sides. The shapes (circles, pyramids, rotors, to name a few) are varied and connectable enough to deliver a seemingly infinite number of things to build.
Dinosaur? Piece of cake. Robot? Sure: how about one that flies like a helicopter? The fact that each connecting point can rotate 360-degrees gives effortless movement to each new project. The result is pleasingly tactile and staggeringly adaptable to different types of play. Your only issue might be not wanting to share them with your kids.
The swiveling connecting points are powered by strong enough magnets that a three-foot structure can confidently keep form but easy enough to disconnect that little hands don't have to struggle to move on to the next project. The foam is waterproof and antimicrobial so Blockaroos can be easily enjoyed in a bath or pool. They can also be machine washed in a sanitizing dishwasher after a group of mouth-breathing flu carriers gets into your kids' Blockaroo stash on a playdate.
Yes, foam as a material for toy building can be problematic, but Blue Marble invested heavily in making sure Blockaroos are built from heirloom-quality materials. The sturdiness of the foam and washability means that Blockaroos can be passed down from sibling to sibling and proudly moved on to a new family once your kids have outgrown them.
Every product on Fatherly is independently selected by our editors, writers, and experts. If you click a link on our site and buy something, we may earn an affiliate commission.
This article was originally published on