Bliss Mobil's Expedition Vehicles Are Luxury RVs For The Zombie Apocalypse
by Dave Baldwin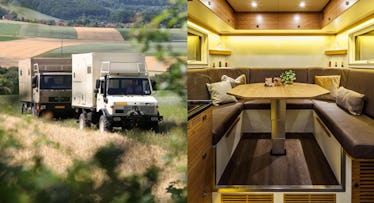 Two questions: One, are you an adventurous dad who dreams about someday owning an RV so the family can travel off the grid every summer vacation? Two, do you live in constant fear of a zombie apocalypse and/or the end times? If you answered 'yes' to, well, either question really, then you should probably think about cashing out your retirement savings for one of these seemingly indestructible military-grade Bliss Mobile Expedition Vehicles.
MORE: The Best Campers, RVs, and Rooftop Tents For Your Summer Adventures
Bliss Mobile's Expedition Vehicles are what you get when you stack a luxury nuclear fallout shelter on top of an all-terrain vehicle. A survivalist's (tiny) dream home, the self-sustaining units come equipped with everything you need to stay alive/hidden from civilization ⏤ from solar panels and battery banks, to smart water systems and aerogel-insulated walls that keep the room comfortable inside an active volcano. Or, at least in temps as hot as 140 degrees. So, that's right, no need to cancel that non-refundable August vacation to Death Valley! There are currently five models available and they range in size from 11-feet for two adults, to 15-feet (two adults, two small kids), to 20-feet for four adults and/or all the American Girl dolls.
You might be off-the-grid on the outside, but the interior of these mobile bunkers are all 5-star luxury. Comfy beds, full kitchens and baths, A/C, heated floors, entertainment system, built-in WiFi (presumably for use with a sat phone), the works. There's even a security system to make sure Sasquatch doesn't try to steal the ATV mounted on the back while you're off chopping wood.
The trucks are mostly (ex)-military or heavy-duty vehicles, and you can pick which one you want from a list of manufacturers. If somehow you received an all-terrain Army truck for your 30th birthday (thanks, honey!), Bliss Mobil can build a room to fit on top of it. Similarly, if you're driving cross country (in search of fresh water and supplies to fight the Saviors) and happen upon a spot you'd like to put down roots — you can unload the room from the truck with the help of a crane, should you happen upon one of those as well.
Obviously, by now you've figured out these Expedition Vehicles are a bit out of the everyday family's budget. And you're right, they start at around $100k. But hey if the world comes to an end do you really need that 401k?
This article was originally published on