Fatherly's Best Of 2016 Holiday Gift Guide
by Dave Baldwin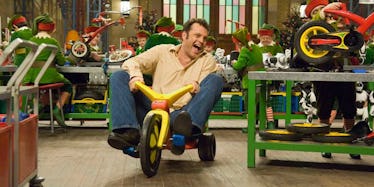 Sure, you could absolutely take your kid's list to Santa, tick off every item on it, and bask in the inevitable glow of being dubbed the world's greatest dad. That's easy. But what do you do when your kid already has an armory full of Nerf guns and is asking for more? You come up with some new ideas. And to help you do that, here are the 16 best gifts of 2016 — from building blocks and tech toys, to battery-powered cars and board games — plus a few thrown in for you and your wife just for being such awesome parents.
The Best Building Toys
Flybrix
Flybrix's "crash-friendly" DIY LEGO drone kits come with everything needed to launch a 4-, 6-, or 8-propeller drone with limited aviation knowledge and no tools. But, you're more than welcome to help your kids out if you want. The LEGOs, propellers, motors, circuit board, even the pilot are in the box; just plug and play. You can even use the bricks already scattered around the house to build a giant jumbo drone and/or finally get that LEGO Millennium Falcon off the ground and on its way to Alderaan.
Ikos 3D Building Toys Creator Pack
Named after the 20-sided geometric shape, which you probably know as an icosahedron, Ikos is like a modular, 3-dimensional jigsaw puzzle. It's comprised of 26 identical recycled plastic pieces that snap together to form a perfect sphere. But, since nobody wants to build a ball over and over, they also interlock in endless combinations of designs so kids (ages 6+) can get creative and make 3D "art." In the process they'll purportedly learn about spatial relations, problem-solving, and what the hell an icosahedron is.
The Best Kid-Friendly Technology
Octopus Watch By Joy
Because few things are more frustrating as a parent than a toddler who consistently shows up late to family meetings (did we say 8 or 8:30?), Octopus by Joy is a colorful, icon-based watch for kids who can't tell time, but still need to get stuff done. You know, the fun part of life! It comes pre-loaded with 600 icons that represent daily activities — from "Wake Up" to "Brush Your Teeth," to "Feed The Fish." Parents can program their kid's schedule via the iOS/Android app. So when it's time to "Eat Breakfast," the cereal-bowl icon lights up to let them know. (Unfortunately, there doesn't appear to be a "Get Dad A Beer," icon.)
Seedling Maze
At first glance, Maze is a modern-day refresh of the old marble game, except now players get to design their own mazes using the removable magnetic walls. But, what happens when your kids get bored tilting that maddening marble back and forth? They get inside the maze! Because, technology. Yes, they can scan the actual wooden board into the iOS app, change the theme to spaceship, kingdom, ancient ruins (and add pics, sounds, riddles), and — using the included virtual reality viewer — start exploring.
The Best Toys That Won't Get Tossed
Anki Supertrucks
Anki Overdrive is 50-percent slot cars, 50-percent Mario Kart, 100-percent mindblowing. Each app-controlled, intelligent robot car has a unique personality and driving style — plus customizable speed, defenses, and weapons. The new giant Supertrucks are 3 times the size of the original cars and come in 2 models: The Freewheel and the X52. They also feature an exclusive new game mode called Takeover. As you once learned in Days Of Thunder, rubbin' is racin'.
Toymail Talkies
If your kid is too young for their own phone but still needs to leave important messages for friends, parents, stockbroker, etc., Toymail Talkies are adorable stuffed animals that send and receive voicemails to a pre-programmed networks of phones or other Talkies. To hear the Talkies themselves tell it, "It's a lot like a tin can telephone, but our messages travel over Wi-Fi. Not yarn." It's also not as cheap as yarn, but still beats the hell out of buying your kid a phone or gluing them to a screen in order to stay in touch.
The Best Gifts For STEM Geniuses
littleBits Gizmos & Gadgets
LittleBits are electronic building block kits full of buttons, triggers, switches, wires, batteries, motors, LEDs, and more (the "Bits") to encourage your kid (the "Little") to invent all the things. This kit was dubbed "The ultimate invention toolbox" because its 60+ parts can create 12 included inventions — among them a "Bubblebot," pinball machine, and RC car — plus hundreds of other idea you can find online. All those hours of creativity and distraction should take care of a few dozen weekends.
Fisher-Price Think And Learn Code-A-Pillar
Code-A-Pillar is the best of 2 worlds: it teaches coding skills while steadfastly remaining a cuddly caterpillar. Preschoolers can infinitely rearrange his segments to make him move in all directions and take paths to targets, which, believe it or not, is sequencing and programming. A companion app (of course) will expand on the counting and patterning challenges for little kids. And he lights up in 8 different colors! Finally, a STEM toy that gets you.
The Best Gifts For A Tough Mother
Joy Interactive Photo Album
Unlike those digital picture frames that cycle through the same old shots, Joy is a 13.3-inch HD touchscreen tablet is specifically designed to consolidate images from all your social media accounts and devices. Now you can handsomely show them off to unwitting dinner guests who didn't actually ask to see them. It sits on a wireless magnetic charging stand and the battery reportedly gets about 5 hours between charge. That's just enough time to walk your dinner guests through your baby' first 100 days.
Ohhio Knit Blanket
As Yoda once said, blankets lead to cuddling. Cuddling leads to spooning. And spooning leads to forking. (Not Yoda from Star Wars. Tim Yoda from college.) But considering you'll both be too exhausted from hosting family at the holidays for any of that, this Ohhio handmade chunky knit Merino wool number is also quite effective at keeping your wife warm when she inevitably falls asleep on the couch halfway through an episode of Westworld.
The Best Games For Family Night
Saloon Tycoon
Because not every kid gets into medical school, ensure yours has a Plan B by teaching them how to run the family bar! Saloon Tycoon is a tile-placement game where players compete to run the best damn pet shop saloon in the Wild West. The cool twist: Tile cards stack up on wooden cubes, not just sideways, to create multi-tiered houses of ill repute. By adding rooms/amenities, completing tasks (claims), and attracting influential citizens to their watering hole (while avoiding outlaws), the winner is the owner with the best reputation. You know who would be good at this? Al Swearengen.
Punderdome
Invented by comedian Jo Firestone and her father, Fred, whose groaners were presumably her inspiration to pursue writing jokes that are actually funny, this is Cards Against Humanity for pun lovers. Players take turns drawing 2 cards from the deck and reading the prompts to the group. Then they 90 seconds to come up with the best possible pun combining them both. It's #DadJokes for the win. Literally.
The Best Driveables And Rideables For Kids
Radio Flyer's Tesla Model S For Kids
For only $71,000 less than the grown-up model, your 3 to 8-year-old (who weighs less than 81 lbs) can zip around the neighborhood in a miniature, battery powered replica of the Tesla Model S. The base model's equipped with all the bells-and-whistles that kids have come to demand in their luxury vehicles: Forward and reverse, a trunk, a working horn and headlights for night riding, and a sound system/audio jack. But, what you're really looking for in a cul-de-sac cruiser is a fast-charging, lithium-ion battery that lasts way longer than the Barbie Corvette.
Infento
A LEGO bike is cool, but a LEGO bike you can ride is even cooler. That's the power Infento enables your kid to lord over their friends as they pedal out-of-the-box big wheels like suckers. While their parents dump and buy a new plastic ride every 6 months, you and your kid simply rebuild Infento, from wagon to trike to scooter to go-kart — with optional add-ons for snow. Ride around singing, "Mr. Plow, that's my name, that name again is Mr. Plow."
Buy Now $299, Available for Pre-Order
The Best Gifts For You
Google Home
Google Home is the latest piece of virtual assistant tech that "learns" your preferences the more you use it. Place it in the middle of your living room, and its always-listening microphone knows what to do when you call out potential playdates to add the calendar, order an emergency shipment of diapers, or blast all the Kindie rock playlists you've saved.
Tentsile
Make your kid's treehouse dreams come true with no-technical-skill required hammocks and tree tents inspired by the Ewoks from Return Of The Jedi. (Star Wars always has the answer.) Tentsile tents fit 2-6 people, and adding a hammock creates a multi-level outdoor living space. Everything is reinforced and secured by heavy duty materials for safety, stability, comfort, and the greatest view of the neighbors' yards you can get without a drone.
This article was originally published on