The Best Black Friday Deals on Gifts for Dads And Kids
The holidays are here. Time to finally buy all that stuff.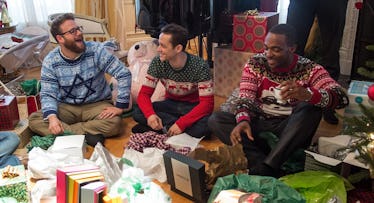 Yes, you could stampede the other parents this Black Friday en route to that perfect gift for your kid, and yes, that would make you a badass, "My dad can beat up your dad" parent. But then you'd have to see those people at some future Cub Scouts meeting or choir practice and admit you were wrong and act all grown up about it, and since nobody wants that, maybe you should just take advantage of these Black Friday deals and order gifts online. You'll still be getting your holiday shopping done way early, you may get a decent sale or two, you definitely won't have to wake up early, and your spouse will still be able to look you in the eye at the next dinner party. At least until New Year's Eve, anyway. 'Tis the season!
Best Black Friday Deal on Books: Lost My Name
Rather than slap your kid's moniker on the same book cover as every other lame kid, Lost My Name's computer machines create unique narratives and illustrations based on Junior's name and hometown. Your kid sees their name in stars and their house from Santa's perspective — does it matter how it works? The only downside: they might start assuming everything is personalized. Good luck getting the pizza delivery guy to spell their name in pepperoni.
Best Black Friday Deals on STEM Toys: LittleBits
LittleBits are electronic building block kits full of buttons, triggers, switches, wires, batteries, motors, LEDs, and more (the "Bits") to encourage your kid (the "Little") to invent all the things. This kit was dubbed "The ultimate invention toolbox" because its 60+ parts can create 12 included inventions — among them a "Bubblebot," pinball machine, and RC car — plus hundreds more online. All those hours of creativity and distraction should excite you more than a little bit.
Best Black Friday Deals on Baby Toys: Spherovelo
Winner of the Creative Child Magazine 2015 Top Toy of the Year Award and Junior Design Award for Best Toy, this ride-on offers documented proof that your kid is more stylish than all the other uncoordinated babies discovering their sense of balance. Once they get the hang of it, the side casters can be removed so they can also show off how much better at bike riding they are than everyone else.
Best Black Friday Deals on iPad Toys: Anki Overdrive
Anki Overdrive is 50-percent slot cars, 50-percent Mario Kart, 100-percent mind-blowing. Each app-controlled, intelligent robot car has a unique personality and driving style, plus customizable speed, defenses, and weapons. With AI designed to feel like another human, you can choose to get dominated by your kid or the world's smartest Matchbox car. The flexible, magnetic track ensures assembly takes seconds and cars stay on forever — not the other way around.
Best Black Friday Deals on Music Toys: This Record Belongs To______
Teach your kid how good music was meant to be heard with this mini suitcase record player and compilation album featuring Shel Silverstein, Jerry Garcia, Kermit the Frog, and of course Carole King (chicken soup with rice, anyone?). A companion storybook tells of 5 forest critters struggling to understand a mysterious flattened disc they've discovered — just like your kids. And there's a USB port for converting vinyls to a format kids actually understand: mp3.
Best Black Friday Deals on Star Wars Toys: Sphero BB-8
This is the toy droid you've been looking for, and it's more glorious than even 11-year-old you could have imagined. At this point you'd normally be reading about all the incredible features, like voice command, adaptive personality, and (holy crap, it really has) holographic messaging. However, no one would blame you if you've already 1-click ordered and are tracking BB-8's trip from across the galaxy (or the Amazon fulfillment center) to your house.
Best Black Friday Deals on Learning Toys: Tiggly Words: Sesame Street Alphabet Kitchen
Tiggly makes ingenious app-toy hybrids where kids use physical blocks to solve screen-based puzzles that teach numbers, letters, shapes, and other early math and reading skills. In their newest release, Cookie Monster is the teacher, and cookies teach the basics of language, which Cookie could probably stand to brush up on, too. This marks Sesame Street's first partnership with a connected toy, so your kid still won't know how to get to Sesame Street, but Sesame Street Will have figured out yet another way into your house.
Best Black Friday Deals on Kids Wearables: LeapBand
Designed to battle childhood obesity, LeapBand functions like a standard activity tracker, but provides instant audio and visual feedback rather than logging data for later review. This encourages kids to perform activities and rewards them with points when they do. The fact that it looks like "My First Smartwatch" is either endearing or annoying, depending on your own level of geek chic.
Best Black Friday Deals on Photo Gear: Polaroid Snap
Do you wish "Polaroids" still existed? So did Polaroid, which is why the Polaroid Snap now exists. The 10-megapixel camera saves digital copies and instantly prints inkless, smudge-proof, water resistant, and tough to tear, aka kid-safe, photos. They render in less than a minute (shaking is useless but still fun), and are adhesive backed, so you can send more to Grandma even if she runs out of magnets.* *Purely hypothetical. Grandma always has more magnets.
Best Black Friday Deals on Personalized Gifts: Artifact Uprising
Artifact Uprising offers dozens of gorgeous photo products from books to cards, posters, and boxes, but their calendar is definitely, like your mother would call you, the handsomest. The reclaimed beetle pine clipboard is magnetized for easy mounting and holds a page for each month, starting when you order it so your folks don't have to wait until Christmas to get next year's calendar. Although they will this year.
Best Black Friday Deals on Coffee Products: MiniPresso
This thing packs the same 116 PSI as a traditional piston-driven espresso machine into a 6-inch cylinder you can throw in your backpack. That's pretty incredible, but what's more impressive is it manages to solve one of the most first world problems ever: the lack of quality espresso options while camping.
Best Black Friday Deals on Outdoors Gifts: Tentsile
Make your kid's treehouse dreams come true with no-technical-skill required hammocks and tree tents inspired by the Ewoks from Return Of The Jedi. (Star Wars always has the answer.) Tentsile tents fit 2-6 people, and adding a hammock creates a multi-level outdoor living space. Everything is reinforced and secured by heavy duty materials for safety, stability, comfort, and the greatest view of the neighbors' yards you can get without a drone.
This article was originally published on