Save on Gear You'll Use All Summer With BioLite's Big Memorial Day Sale
Whether you're kicking it in the backyard or in the middle of the woods, there's an upgrade waiting for you.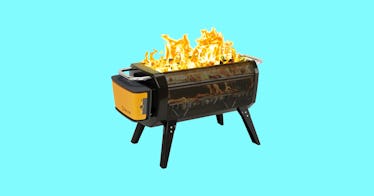 If you spend time outdoors, or have a buddy who camps, you're probably familiar with BioLite. For the uninitiated, BioLite makes well-designed, rugged outdoor lighting, power banks, and headlamps that are designed to harness natural energy sources for smart off-the-grid activities. If you've encountered the brand on social media anytime lately, you've likely seen their "smart firepit," which has helped them cross over from backpackers to backyarders.
Memorial Day is the unofficial start of summer — it also marks BioLite's big annual Memorial Day sale, which will save you up to 25 percent, through May 31, on everything from firepits to solar chargers, headlamps, and more. While the entire site isn't on sale, a lot of the better gear that will help you kick it in the backyard is. Here's how to spend wisely.
Every product on Fatherly is independently selected by our editors, writers, and experts. If you click a link on our site and buy something, we may earn an affiliate commission.