The BioLite FirePit Is a Smoke-Less Portable Campfire That Charges Your Phone
It also doubles as a grill because of course it does.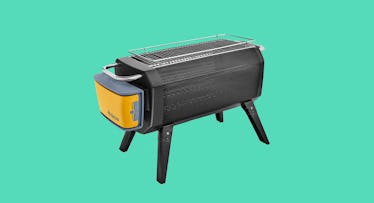 Campfires are all Kumbaya and s'mores until the wind kicks up and half the folks around the fire are hit with a face full of smoke. BioLite, the company behind such products as the electronics-charging CampStove, has done away with this problem with their new FirePit. Basically a portable campfire, it produces a fire with very little smoke, doubles as a grill and, because why not, can also charge your electronics.
When you see smoke billowing off of a typical campfire, you're seeing unused fuel escaping into the atmosphere. To do away with this, BioLite engineered the FirePit with 51 individual air jets that inject the fire with oxygen. An internal fan kicks in to create a more uniform temperature, which helps yield a more efficient flame. The FirePit maintains a steady burn for 24 hours on its lowest setting. Medium will get you 10 hours, and the two higher settings can give you up to five hours of fire time.
About the size of the average car seat, the FirePit weighs 20 pounds and measures 27" long, 13" wide, and 16" deep. It can burn wood or charcoal and, like other BioLite stoves, is powered by a USB-chargeable battery that stores reserve power to charge your devices.
The FirePit has the capacity for up to four standard-sized logs, or an equal amount of charcoal. The X-Ray mesh body means viewers will see the fire no matter where they're sitting, and there's an included grill grate to transform the whole setup into a steak-sizzling hibachi.
All said, there's a pretty convincing case to have the BioLite FirePit in your backyard. There is one catch: it isn't available until August. But, as the old saying goes, "Patience is the virtue of the man who loves a bitchin' campfire."
Every product on Fatherly is independently selected by our editors, writers, and experts. If you click a link on our site and buy something, we may earn an affiliate commission.
This article was originally published on