The Best Bikes, Trikes, and Striders for Toddlers Learning to Ride
Get ready to hit the road with your kids.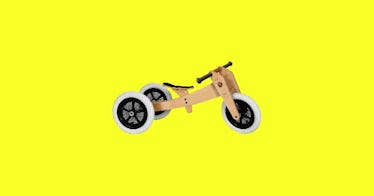 Freedom is a set of wheels, and for children ages two to four seeking adventure and independence, it takes a toddler bike. Learning to ride a bicycle is a rite of passage and an invaluable skill, but that doesn't mean it's easy. To keep the number of skinned knees and elbows to the bare minimum, the best toddler bikes make it easier. That may mean no pedals and all balance (commonly referred to as balance bikes), those with training wheels and a traditional build, coaster brakes, and even trikes or quads. Regardless of your choice, the best toddler bikes make it easy to learn balance while give kids the freedom to explore.
For biking safety tips, we consulted with Dr. Benjamin D. Hoffman, the chair of the American Academy of Pediatrics' Committee on Injury, Violence, and Poison Prevention. He advises parents to look closely at the manufacturers' recommendations for age and weight limits to know "who can use it and how it's supposed to be used."
Striders and balance bikes take pedals, cranks and chains out of the equation, letting kids walk and coast on two wheels, as they refine their sense of balance. Trikes offer maximum stability, letting kids explore and gain physical confidence until they're ready to transition to two wheels. And pedal bikes with training wheels gives toddlers the chance to feel at home on a geared bike before making the leap to the real thing. Whether you choose striders, trikes, or bikes, however, the objectives are the same: to get outside as a family, to give toddlers the confidence they need to explore, and to let them practice navigating the world on a set of wheels that are safe, balanced, and adaptable.
Little kids should also be supervised, and everyone — but everyone — should wear a helmet while biking. Seattle Children's Hospital advises that a helmet should sit level on your child's head and rest low on the forehead, with about one to two finger-widths' above the eyebrows. The straps should be even, form a Y under each earlobe, and fit snugly but loose enough that your child can breathe.
The Best Bikes, Striders and Trikes for Toddlers
Every product on Fatherly is independently selected by our editors, writers, and experts. If you click a link on our site and buy something, we may earn an affiliate commission.
This article was originally published on