The 4 Best Bike Trailers and How to Safely Use them
You get a workout. Kiddo takes a nap.
by Chris Hrenko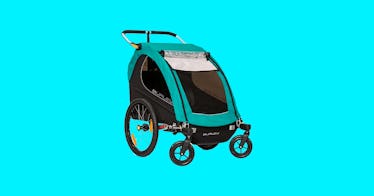 If you're most at home on two wheels, a great bike trailer for kids is one of the best parenting investments you're going to make. Chances are, your kids will be sleeping soundly while you get a great workout in and maybe even pick up some groceries while you're at it. A bike carrier for kids, otherwise known as a bicycle trailer, hitches to your bike, and your kid (or kids) sit in it. In fact, if you're a cycling enthusiast, it's the smartest way to transport your kids around.
"The safest thing is for them to be in a bike trailer," says Dr. Maneesha Agarwal, an assistant professor of pediatrics and emergency medicine at Emory University and a pediatric ER doctor based at the Children's Healthcare of Atlanta Hughes Spalding Hospital. "With a bike seat, if the bike falls down, the child falls down with the bike. Bike trailers can have special attachments where you if you fall off a bike, the trailer won't tip over. Make sure you are highly visible. Attach a bright flag to the trailer to increase visibility so a motorist will see it."
Experts generally agree that bike trailers are the safest way to cycle with young children, but there are few things to bear in mind. First off, your child needs to be able to support his or her head, unaided, to safely sit in the seat (without flopping around), so that means you can't use your trailer until your child is at least 12 months old. The kid needs to wear a helmet and be strapped in with a sturdy harness.
It may seem counterintuitive that a trailer you can't see is actually safer than a bike seat that's in your line of vision, but it makes total sense because if you fall off your bike, your kid hits the ground. Per Dr. Kirsten Bechtel, an associate professor of pediatrics and emergency medicine at the Yale School of Medicine and an attending physician in the pediatric emergency department of Yale-New Haven Children's Hospital, "If the child is in a trailer, the child is closer to the ground so if you get hit or struck, there's less of a height for them to fall."
In fact, "If you have a kid in a trailer in a separate bike lane and you're both wearing helmets — that's probably the safest form of travel," says Bechtel.
Every product on Fatherly is independently selected by our editors, writers, and experts. If you click a link on our site and buy something, we may earn an affiliate commission.
This article was originally published on