This Portable Ski Ball Game Will Win Your Next Tailgate
It — and a bunch of other tailgating and backyard games — are on sale today.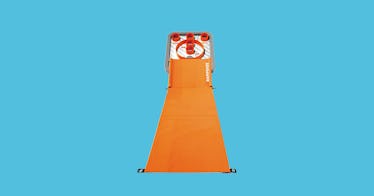 Every day, the Internet is teeming with deals, sales, discounts, and savings. But, as the Internet is a big, distracting place, said deals can be difficult to find. Plus, you don't have time to sniff 'em all out. You have work and kids and a total of 25 minutes of free time that shouldn't be spent looking for discounts. So, to help you out, we'll be combing through the daily offerings and rounding up the deals we like, and think you might find useful. Today, take your pick from a bunch of outdoor games on sale at Dick's. They'll make your next cookout or tailgate that much more entertaining.
KanJam HARD COUNT Game Set
KanJam has gone from startup to beloved tailgate mainstay in a short time, and this modified version ups the ante by combining the best elements of KanJam with backyard football. Two teams of two to five players take turns on offense trying to throw and/or deflect the ball into the included goals. The field is only 20 yard long, so unlike traditional football, you don't need a huge piece of field or parking lot to play. Save $15 when you pick up this hybrid game today.
Quest RampSkee
You shouldn't have to go to an arcade or a bar to experience the joy of throwing a ball down a ramp into some holes. With this portable version, you can bring that feeling to your own backyard. To set it up, all you have to do is drive four stakes through the attached grommets and start rolling. It comes with six balls that are easy to retrieve from the mesh bag behind the target. You'll pay less than half the normal price when you buy one today.
Wild Sports Metal Ladderball Game
Ladderball is a casual throwing game similar in spirit to cornhole but much more portable. Instead of lugging around big wooden targets you can break down the ladders into their component pieces and stash them along with the six bolas into the nylon carrying bag. The metal construction means this set can take a beating, so it should last for many future tailgating seasons to come. You can get it today for 50 percent of its normal price.
Wild Sports FORE! Golf Game
Hang out with your friends and improve your short game with this fun golf/cornhole hybrid. This game comes with a chipping mat, a small patch of artificial green, and a tilted target with three holes to aim for. Unfold the legs of the target, set up the mat at your desired distance, and chip away using six included foam practice balls, or substitute your own for a more realistic feel. You'll save $40 and, hopefully, a stroke or two off of your next round.
This article was originally published on