10 Games, One Epic Family Game Night
Bring the whole family for this game night marathon. From elementary to tween, teen to adult games, there's a little something for everyone.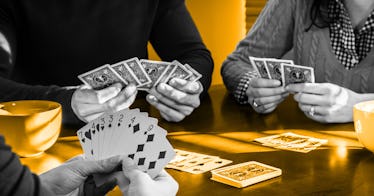 This story was produced in partnership with Bicycle® Playing Cards.
The first thing you'll need for a tremendous family game night? A bucket. It's not for holding drinks or snacks (though you should have those too). It's for phones, tablets, smartwatches — anything that might distract from the action. Everyone — including you — needs to put their devices in there. Why? The point of game night isn't actually the games, of course, it's the chance to separate from the rest of the world and bond with your family.
The second thing you'll need: A whole bunch of games. One game won't cut it. This is game night, after all — a time when you have permission to bring the whole family in and go wild, playing games together and giving everyone a turn. Start the evening off with games for the little ones and as the night progresses — and kids head to dreamland — the games too shift, from elementary rounds to teen-focused games to some serious rounds of card play. On this game night, there's something for everyone. Here's your game plan. (See what we did there?)
6:30 p.m.
When the last phone hits the bottom of the bucket, pull out the 6-in-1 Fun Pack. One of the best values in games, this box comes with a half-dozen classic card games, from Old Maid to Crazy Eights to Memory. If you notice kids getting restless during one, you can keep them on their toes by breaking out another. The cards are even designed for smaller hands to hold, making them perfect for kids who are still new to the whole having hands thing.
7:30 p.m.
When the littlest go down for a book and bed, it's time to step it up a bit. Start with Monkey, May I? It's a game designed to foster emotional intelligence, as good decisions are rewarded with "Monkey Money." The rounds are short, about 15 minutes on average, and it's easy enough for the little ones to play and amusing enough to keep older kids engaged.
If you think your family would prefer something a bit more new-school, try Mixed Emojis. Like Monkey, May I? it's an emotion-driven game that prompts players to mimic the emoji cards they play, share when they felt that way, and listen to the other players' experiences, as paying attention is the only way to win.
8:30 p.m.
It's the Tweens' turn! With the younger kids now in bed, you can move on to games that are a bit more challenging. Enter Shuffle Grand Prix, a sort of card-based take on racing video games. The object of the game is to have the highest total distance when the distance card deck runs out, all while using ability cards to delay your opponents and protect your driver and co-driver from their attacks. There is a bevy of different card types, including some you can play even when it's not your turn, which makes this more complex, fast-paced game perfect for tweens.
9:30 p.m.
Teens are fast-paced social creatures; it's why they're always loitering together while texting each other. Given that, Tattoo Stories, a game that rewards artistic skill and creative thinking is just right for them. In each round, there's one customer who draws 10 cards, selecting five for their tattoo. The other players set about designing a tattoo, asking questions designed to help them tailor it to the needs of the customer, who gives individual cards to the artists who did the best work with that element. This is big on laughs, irreverence, and self-expression in a family-friendly way.
10 p.m. until ???
All the kids have wandered off and it's time for the adults to game. You can revisit Tattoo Stories — that is just as fun for adults, after all — or break out It's Blunderful, a party game that depends on how well the players know each other. In each round, there's an awkward situation and three different reactions. One person reads the situation and secretly chooses their action while others try to guess what it will be. Guess right and you get points; guess wrong and you lose points.
After that, it's time to turn to some classic cards. If you're getting tired a few hours into game night, you can relax with a simpler game. If, on the other hand, you're adrenaline is pumping you might be better off with something more complex. Here are four of the best, ordered from easiest to most difficult. Either way you want to play, Bicycle has created a Comprehensive Rules Guide to nearly 100 card games that will help you find the perfect game for everyone.
Slapjack
Deal all the cards. Play them one by one. Slap the jacks first when they appear and take the pile. Win when you have all of the cards. That's it. There's a minimal amount of strategy involved with this game, where reflexes are probably the most useful skill. But be wary: things can get heated, and you might need a neutral judge to figure out whose hand hit the pile first.
Six-Card Golf
As its name suggests, the object of this game is to get the lowest score. Over the course of nine "holes" or rounds, they swap their cards—some showing and some hidden—for cards from the deck or discard pile. Once you get the hang of it, six-card golf is a brisk game that's great if you don't want to get involved in a long, complicated match.
Spades
The classic game requires you to bid from the get-go, a strategic decision that often means the difference between winning and losing. You can play with four individuals or two teams of two, the latter a fun wrinkle for parents who don't mind teaming up on their kids. Each round is 13 hands, so it moves quickly, but you also keep a running score. It's the best of both worlds, and the kind of game where playing for hours feels like minutes.
Poker
You can't argue with poker's mass appeal; as far as we know it's the only regularly televised card game. And once you learn the basic hands, it's hard to think of another game that offers such flexibility. 5- or 7-card. Stud or draw. No-limit or limit. And for the purposes of family game night, you can eschew chips or, in a full simulation of late-night ESPN2 programming, see who can take home the pile. Because the only thing more fun than winning a game is winning a game with stakes, even if the stakes are just pretzels or nickels.