The Best Workout Clothes to Keep You Cool This Summer
These base layers, shorts, and shirts are specially designed to cool you down while you sweat it out under the sun.
by Ben Radding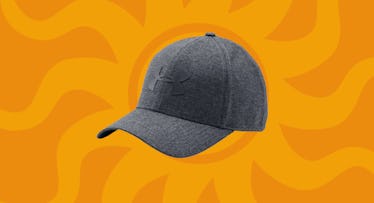 No other way to say it: it's hot outside. Like really hot. Heat waves are rolling in and out of the country and going outside sometimes feels like stepping into a mouth. It's great then that fitness brands are well aware of how miserable a scorching workout can be — and are creating men's workout clothes that actively cool you down.
A variety of base layers, underwear, leggings, and shirts all have this tech. There are a variety of ways this cooling manifests itself. The most common is "moisture-wicking" or "sweat-wicking" fabric. This basically means that the fabric pulls moisture from the skin and absorbs it, keeping you cool by keeping the sweat off your skin.
Other brands get a little fancier. Air Cool, for example, uses their own HydroFreeze X tech in their shirts that pulls sweat off your body and disperses it throughout the rest of the shirt to keep you cool. Other brands, like Lululemon, have shirts that use strategically-placed vents to help regulate the fresh air getting to you as you sweat.
There are a lot of great options out there. But here are our favorite sweat-wicking, cool-keeping pieces of workout clothing that'll keep you moving when the heat is on.
Nike Breathe Training Top
Simple and elegant, this shirt is the staple of any summer workout wardrobe. It's made with Nike's patented Dri-Fit tech—a polyester fabric that moves sweat from the body to the outside of the shirt, where it can evaporate, and thus keeps you cool. A summer essential.
Adidas Alphaskin Short Tights
Whether used on their own or as a base layer to a pair of shorts, these tights take the pain out of summer runs. They're made of Adidas' own Climachill fabric, which is made from titanium and small cooling spheres, which helps cool the skin on contact. An industry standard you basically have to have.
Lululemon Metal Vent Tech Surge Short Sleeve
This shirt is light and cools you down in hot weather with an open-hole mesh fabric (the "vented" tech we mentioned above). This mesh helps your body regulate its temperature and provides a cool breeze. Plus, its anti-stink fabric means you won't have to hide the kids when you come in from your run.
Under Armour CoolSwitch ArmourVent 2.0 Cap
Save your eyes from the blaring sun with this cooling cap. The coating on the inside actually wicks sweat from your brow as you work out, and it's light, breathable construction gives you a cool breeze around your head. An excellent choice for the golf course.
ExOfficio Sol Cool Boxer Brief
Nowhere is as uncomfortable when you're sweating bullets as your groin area. These trunks from ExOfficio combines a treated cotton with sweat-wicking nylon fibers that help regulate your nether's temperature and keep you cooler for longer.
Icebreaker Men's Cool-Lite Sphere Long Sleeve Crew
A base layer for the hottest days of the year, Icebreaker's Cool-Lite fabric combines comfortable merino wool with Tensel made from wood pulp to keep the sweat-wicking going long into your August runs. The Corespun fabric is extra durable too, giving you breathing room for multiple washes.
Arctic Cool Running Shorts
From playground pull-ups to full-on marathons, these shorts will stick with you — not to you. Their outer shell features Arctic Cool's HydroFreeze X tech, taking your sweat and absorbing it throughout the shorts, creating the cooling you need for summer's dog days. Plus, it's sun-protective, rated UPF 50+.
Mission Enduracool Reflective Cooling Headband
This simple piece of fabric can mean all the difference when you're trying to break through a wall on a hot day. It can absorb the sweat on your head and transform it into the cooling head towel you need when you need it most. And it's reflective, so even when it's hot out, you're visible from the road.
Every product on Fatherly is independently selected by our editors, writers, and experts. If you click a link on our site and buy something, we may earn an affiliate commission.
This article was originally published on