The Best Wood-Fired Hot Tubs for Soaking the Stress Away
There's never been a better time to surround yourself with wood, water, and fire.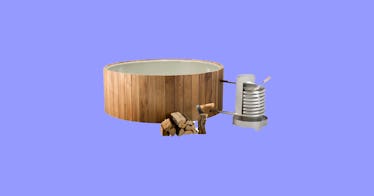 The fantasy of sitting in a wood-fired hot tub with warm water melting your problems away lives somewhere near that idea of moving to an A-frame cabin in Vermont. But installing a wood-fired hot tub in your non-forest backyard is still pretty good — it's a simple way to slough off the nonsense that clogs everyday life. While electric hot tubs offer a similar soaking experience, wood-burning tubs are better suited for relaxation. A wood-fired hot tub can be satisfying for the same reason that baking bread, growing vegetables, and fixing up the house are: It indulges that instinct to tend to something, rewards practice and patience, and earns you the goodwill of everyone who gets to enjoy it. Would you rather listen to a motor rumbling or flames crackling? Would you rather smell recirculated chemicals or the smoke wafting up from a fire? That's what we thought.
If that all sounds just a bit too romantic, there are also practical reasons to opt for a wood-fired hot tub. They won't explode your electricity bill, can operate without toxic chemicals, and don't break down much thanks to the lack of moving parts. Wood-fired hot tubs eschew pumps, chemicals, and electric heaters for old-fashioned wood and water you simply replace before it gets dirty. They're available at a lot of different price points, and some are even portable. Best of all, it's easy to have these delivered to your house (or cabin, or chalet) and install them yourself. See? The dream isn't as out of reach as that A-frame.
Every product on Fatherly is independently selected by our editors, writers, and experts. If you click a link on our site and buy something, we may earn an affiliate commission.
This article was originally published on