The Best Bourbons and Ryes That Are "Bottled in Bond"
It's a distinction that sets a lot of American-made whiskies apart.
by Nicholas McClelland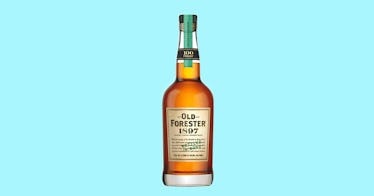 If you're a frequent whiskey shopper, you may have noticed the phrase "bottled-in-bond" popping up on labels at your local liquor store. The designation is a throw back to one of the USA's first consumer protection laws — and is something to keep an eye on.
The Bottled-in-Bond Act of 1897 was established to combat the lack of quality control in American whiskey, which at the time was being diluted and blended with unsavory and sometimes dangerous additives. For a whiskey to be "bottled-in-bond" means that it's 100 proof, poured from barrels filled in the same season by a single distiller, and aged at least four years in a supervised warehouse.
While contemporary whiskey producers no longer water down their hooch beyond the proof declared on the label or add things you wouldn't want to drink, the BIB declaration does let consumers know where the whiskey was made, which is a nice touch of informational currency since we see so many brands that merely source and blend brown spirits without declaring the bottle's provenance.
Whether you're a bourbon drinker or more into rye, here are five bottled-in-bond whiskies to try.
Old Forester 1897
Named for the year the Bottled-in-Bond Act was passed, Old Forester 1897 was released last year as part of the brand's delicious Whiskey Row series. In the mouth, a fruity sweetness is tempered with soft oak and spice, making it a damn fine dram.
Rittenhouse Rye
A bartender go-to, Rittenhouse Rye is a cocktail champion thanks to the BIB requirement of 100 proof. While it's not quite a spicy as some, Rittenhouse still has tons of flavors to discover, citrus, vanilla and chocolate to name a few, whether you're sipping it or whipping up a Manhattan.
Henry McKenna Single Barrel Bourbon
One of our favorite daily sippers, Henry McKenna spends 10 years in oak, which gives it a thick, rich mouthfeel. Flavorful to the last drop, every dram is woody with lovely notes of vanilla, spice and cherries. A long finish lasts right up until the bartender drops off your second glass.
Old Overholt Bonded
Much like Mad Men's Don Draper, Old Overholt Rye is a permanent fixture on our bar. But we bet he'd prefer Old Overholt Bonded… had it been around in the fictional 1960s. Thanks to the higher proof it's more flavorful than the original and delivers a nice rye spice that won't overwhelm your palate. A glass can stand on its own with a touch of ice, while a few jiggers form the base of an excellent old fashioned.
Tom's Foolery Bonded Bourbon
Ohio craft-maker Tom's Foolery's distills its spirits using the original pot stills and fermenters from Michter's Jug House. While their bonded bourbon does the four required years in charred new American Oak, it's finished in ex-applejack barrels, giving it amazing notes of apple and spice that play off more subtle flavors of cocoa, nuts and caramel.
This article was originally published on