The 21 Best Whiskeys in America Right Now
It's a great time to be a whiskey drinker. These are the best bottles made in America today.
by Nicholas McClelland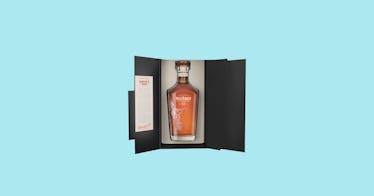 It's great time to be a lover of American whiskey. The boys and girls of U.S. distilleries are not only cranking out excellent bottles at a break-neck pace to keep up with consumers' unquenchable thirst but they are constantly producing new, imaginative, and innovative expressions. In other words? It's the golden age of American whiskey.
With so many bourbons, ryes, and other American whiskeys on shelves, the question becomes not 'what's great' but rather 'what's best?'. Sorting that out is a never-ending quest. For us, what makes a whiskey truly great is not only unique and expertly woven flavors that play off each other in perfect harmony, but one that is also accessible. That is to say, you have to be able to buy it. Certainly, some amazing bottles are as rare unicorns and, while everyone loves a one-horned horsey, there is no shortage of amazing, easy-ish to find whiskey across every style and nearly every price point. So while this list contains a few rare, price-y finds, most can be found without much trouble.
This is a "Best" list, so it's inherently subjective and we know, dear reader we've left one of your favorites out and included something you find vastly overrated. For that we are sincerely not sorry. But feel free to comment or @ us. (But please be respectful. No one likes a mean drunk.) Without further ado, here are, in no particular order, our favorite American whiskies, right now.
While generally we consider the world's current obsession with whiskey a good thing, the fact that this once cheap and plentiful bourbon has become nearly impossible to find and selling for up to five times retail makes us a bit apoplectic. The fact remains: Old Weller Antique 107 is a delightful bourbon with flavors of vanilla, oak, and caramel working in harmony to produce a rich and luscious mouthful of whiskey.
Good news, there is still some 2018 Michter's 10 Year Single Barrel Straight Rye out in the world. Big and punchy, it's near rye perfection. Rich spice is beautifully balanced with a lovely vanilla sweetness. If you see a bottle on the shelf, buy it, otherwise it's going for twice as much online.
We are continually shocked to come across bottles of Knob Creek 2001 for around its retail price. Fred Noe released three batches in 2016 of whiskey initially barreled by his late, great dad, Booker Noe. It's a stunner. Notes of vanilla, honey, peaches, and a punch of wood make it a wonderful glass of whiskey.
Last year's Booker's 30th Anniversary has been nearly all snapped up by other fans and is going for more than triple the retail price online. For good reason, it's dynamite. A blend of nine and 16 year old whiskeys, this release commemorates three decades since Booker Noe brought his namesake bourbon to market. True to the brand's core identity, sweet vanilla and oak stand out up front with subtler notes butterscotch and shortbread leading into pepper and leather. With every sip you'll find something a little different from the last.
Recently we were shacked up at a posh L.A. hotel with a well stocked bar replete with the Van Winkle line. The ask for a glass of Pappy 23 was $130, a decent value for a generous pour, but we still demurred. That's more cash money than we were willing to part with for a single serving. So, we ordered a Blanton's and silently wept.
We've never had a Willett rye (or bourbon for that matter) we didn't love. But we keep coming back to the 4 Year Rye, not only because it's delicious but also it's still relatively accessible and not usually marked up much over retail. Well-balanced and richly complex, Willett rye never fails to impress. It's peppery spice is enhanced with deep rich dark fruit flavors.
It's not hard to find but Knob Creek Cask Strength Rye is crazy good and if you haven't tried it yet, you need to track down a bottle. It's rich mouthful with spicy, peppery notes playing off a deeply satisfying caramel sweetness. And since its a cask strength 119.6 proof, this Knob Creek has a serious undiluted flavor that waltzes beautifully along your tastebuds.
William Larue Weller is a bottle for bourbon lovers who like big flavors and high alcohol content (around 125 proof.) Any bottling from the Buffalo Trace Antique Collection is tough to find, and after Pappy, this one is probably the most scarce thanks to the fact that it was named 2019 World Whiskey of the Year by Jim Murray's Whiskey Bible. Buttery with rich oak, chocolate, dried fruits, and burnt sugar, it's a fiery whiskey that does well with a touch of water.
Elijah Craig 23 is damn near impossible to find on shelves and it goes for a little over double the retail price online. But, if you're prepared to shell out, you'll end up with an outstanding bottle. Honey and chocolate lead the palate to a sultry tobacco flavor and a long drawling finish.
Four Roses Single Barrel is still one of the best values in bourbon. You can pick up a bottle for less $40 and you'll be glad you did since it boasts notes of cocoa, cherry, toffee and caramel. It's happiness in a bottle for both your palate and your checking account.
Our general ethos is that whiskey is best shared, and that goes for every and anything on our bar… except for the Old Forester Birthday. Every year the company drops their Birthday Bourbon on September 2, the birthday of the label's founder George Garvin Brown, and every year we spend a decent bit of time trying to track down a bottle. It is our absolute favorite, and while year to year it's a little different, Birthday is always a rich, complex glass. Our bottle has about two glasses left and maybe we're being a little greedy, but they're ours.
Snobs may scoff at the idea of a premium Wild Turkey, but anyone who dismisses the juice based on the name on the bottle is a sucker. Master's Keep 17 is a boss whiskey with a solid but gentle oak note, despite a substantial time spent in the barrel. It's also surprisingly light in the mouth but still rich in sweet caramel, fruit and chocolate notes balanced out with a pleasant spice.
An ode to a batch of whiskey that was nearly destroyed by a fire at the distillery in 1910, this Old Forester take this expression to the next level with extra aging in a second heavily charred barrel. The result is one made for bourbon lovers who enjoy thicker, sweeter whiskey balanced with char and oak.
Thanks to a slew of recent awards, including Best Whiskey at the 2019 San Fransisco World Spirits, Henry McKenna Bottled in Bond Single Barrel is getting harder to find. One of our favorite daily sippers, Henry McKenna spends 10 years in oak, which gives it a thick, rich mouthfeel. Flavorful to the last drop, every dram is woody with lovely notes of vanilla, spice, and cherries. A long finish lasts right up until the bartender drops off your second glass.
When we think of peated single malts, we picture the glorious whiskies of Islay. But the Folk's at Washington State's Westland serve up a hearty enough portion of smoke in their Peated Single Malt to satisfy even the most dedicated peat fiend. Classic notes of orange and roasted nuts shine trough the smoke and a medicinal quality emerges toward the end.
Colorado maker Stranahan's takes their four-year single malt, aged in new-charred American oak and transfers it to 40-year-old Oloroso sherry casks for an additional spell. The result is rich, flavorful whiskey with a fruity sweetness that balances nicely with flavors of salt and leather.
To be called Tennessee whiskey does it have to be distilled and aged in the Volunteer State, but the sour mash also has to go through an additional step not required for bourbon known as the Lincoln County Process. The spirit must be filtered in maple charcoal before being laid down in barrels for aging. George Dickel Sour Mash Tennessee No. 12 is a marvelous bargain and wonderfully balanced glass, buttery with luscious vanilla, caramel, and corn flavors with a nice hint of nutmeg. During the lengthy finish nearly all the notes take an encore as you bow to a refill.
At most bars, Original Woodford Reserve Bourbon is an easy call for a great sipper. But if you spot a bottle of their Double Oak, order it instead. Woodford uses a two barrel types to make this whisky, traditional charred oak and one that has be heavily toasted before a less intense char is applied. It's a sultry bourbon with awe-inspiring notes of caramel, vanilla, cherries and spice.
One of our frequently called bar shots, Blanton's was the first widely released single barrel bourbon back in 1984 and has become a whiskey icon in the nearly 35 years since it was created By Elmer T Lee. It's a thick mouthful with notes of oak, vanilla, citrus and long, luxurious finish.
The San Fransisco World Spirits Award Best Small Batch Bourbon of 2019 winner Barrell Bourbon Batch 18 is truly awesome. With every sip a wealth of flavors wash over your palate — honey, orange, chocolate and hint of strawberry are all followed by a brilliant spicy finish.
Depending on the batch, Elijah Craig Barrel Proof kicks in between 128 and whopping 140 proof. A former Whisky Advocate Whisky of the Year, the interplay of caramel, vanilla, cinnamon spice, and chocolate make this bourbon a tasty treat you won't soon forget… unless you've had several glasses, and then good luck remembering anything.
Every product on Fatherly is independently selected by our editors, writers, and experts. If you click a link on our site and buy something, we may earn an affiliate commission.
This article was originally published on