The 5 Best Whiskeys For Your Home Bar
The five best bottles to keep around.
by Nicholas McClelland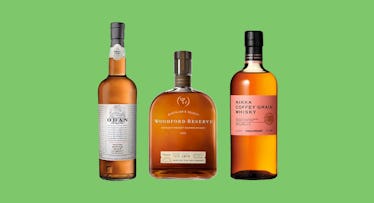 Whether you're a regular nightcap guy, a special occasion drinker, or only use Bourbon to make barbecue sauce, there's something appealing about a well-stocked home bar or liquor cabinet. There the bottles sit, ready to take the edge off a long day or to pour for friends. And if there's one spirit that serves as the backbone of every home bar, it's whiskey.
As we're living in the golden age of the brown spirit, there's no shortage of quality bourbons, ryes, and Scotches ideal for everything from cocktail-shaping to slow-sipping. Better yet, they don't have to cost you a week's salary either. In our humble opinion, here are the five best whiskeys for your home bar.
The Best Bourbon For Your Home Bar: Woodford Reserve
Number one with a bullet: Bourbon. Your home bar needs a solid one, something that provides enough flavor for you to enjoy sip neat and also serves as a strong base for everything from Boulivardiers to Old Fashioneds. For our money, Woodford Reserve is the ideal starter: it hits all the above criteria and, better yet, is available at any liquor store.
Best Served: On the rocks, mingled with simple syrup and bitters, or stirred into the latest craft cocktail du jour, Woodford does everything well. But if you're making a cocktail, use ingredients that pair with vanilla, honey, and citrus. In a summer Old Fashioned or Mint Julep, it's absolutely dynamite.
The Best Rye For Your Home Bar: Willet 4-year
While bourbon offers sweet, caramel-like flavor, rye is drier and spicier. An affordable whiskey that will impress even your snobbiest friends, Willet 4 Year Rye is well-balanced and richly complex.
Best Served: In a manhattan. The cherry richness of the 110 proof Willet brings an extra layer of complexity — without the cloying sweetness — to the classic cocktail.
The Best Single-Malt Scotch For Your Home Bar: Oban 14 Single-Malt Scotch
There are five whisky producing regions of Scotland, each with their own traits and numerous distilleries producing amazing single malts. A rock solid choice for your home bar's primary offering is Oban 14. It's a richly flavored Highland whisky with a touch of salt from the sea and hint of peaty smoke. It's hard to thrill every Scotch drinker you might entertain, but Oban is a standard nearly everyone can appreciate.
Best Served: Making cocktails from single malt Scotch can be a little tricky. There are good recipes to be sure, but they tend to be complicated and require more than a few ingredients. Oban 14 is great in a classic Rob Roy, but to truly enjoy a good single malt you only really need one ingredient: a glass.
The Best Japanese Whisky For Your Home Bar: Nikka Coffey Grain Japanese Whisky
Japanese whisky is increasingly difficult to find at your local liquor store and when you can source the classic, age stated varieties, it's often at a less-than-affordable markup. On the other hand, Nikka Coffey Grain is not only an intriguing whisky but also much easier to find. No it's not made from coffee, rather its produced using a Coffey still from a mash made from both corn and malted barley. The resulting spirit tastes somewhat like a Japanese homage to bourbon with an oaky, vanilla sweetness enhanced with the flavors of melon and grass. Great on its own, the Coffey Grain also makes a superb highball that your guests will love.
Best Served: Thanks to a wide variety of notes to play off — from vanilla, to to nuts, melon and mint, the cocktail possibilities are endless. Start with a simple whisky soda highball and see where your palette lands.
The Best Special-Occassion Whiskey For Your Home Bar: Glenmorangie Signet
It's a good call to keep something special on the shelf for the times you want to celebrate a little – your daughter getting up on a two-wheeler for the first time, the wife rocking another promotion at work, or you managing to get through your first PTA meeting without getting into a fight with Deborah. For victories large and small, Glenmorangie Signet is a real treat. A deep amber in color, this whisky is beautifully complex thanks in part to the roasted chocolate barley used in the distilling process. After a lengthy time maturing in virgin American oak, the result is flawless and like all great whisky there is something new to discover in every dram.
Best Served: If you have to ask, don't buy it. Glenmorangie Signet is a big, bold Scotch that needs nothing save for a couple drops of water to help open it up a little. Otherwise, drink it neat.