The Best Whiskey to Buy With Your Tax Refund
If you received a tax refund and feel like splurging, these are the bottles to consider.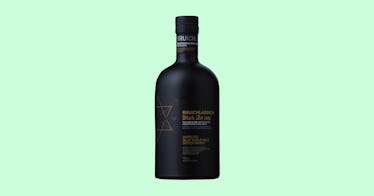 While this tax season has left many feeling uncertain about if a refund will be in their account, the average tax refund is still a relatively sizable $1,900. That's a decent bit of change. If you can spend some of the money on yourself and want to buy a nice special-occasion bottle of whiskey to sip sparingly until next tax season comes around, there are a number of excellent bottles to consider. Now, normally, we think shelling this kind of money on a bottle of whiskey is ridiculous, especially considering how many great whiskies under $25 there are. But every now and again a splurge is good for your soul and your tastebuds. Here, then, are five bottles of whiskey worthy of your tax return.
Bruichladdich Black Art
Truth be told, we have been eyeing a bottle of Bruichladdich Black Arts at our local shop for a few months now. It's a 26-year-old Islay single malt, but unlike the traditional varieties, it's un-peated. Sure, the bottle looks like a prop from Rosemary's Baby, but the contents are extraordinary. It's a staggeringly complex dram, with notes of mission figs and chocolate that give way to coconut and tobacco.
Macallan 25
The Macallan 25 is one of the grails of single malts but not because it's impossible to find. It's out there — it's just a jaw-droppingly expensive bottle. So, if you got a hefty refund back or just want to blow your whole wad, it's worth the splurge. Mac 25 is an exquisitely layered drink, wealthy in sherried, dry fruit notes, a honied sweetness with a rolling, supple finish.
Yamazaki 18
Hard to find and even harder to pass up if you have the cash, Yamazaki 18 Japanese whiskey is simply amazing. Dark and fruity, with notes of nuts and spice. It's a rich and full, magical whisky and we'd gladly empty our wallet for bottle.
Michter's 25 Year Rye
Rye aged 25 years is a rarity. In fact, we've never seen a bottle of Michter's 25 Year Old Rye out in the wild. But if you are a rye fiend with a little refund in your pocket, you're going to want to track down a bottle. This whiskey can thank its tapestry of flavor to a quarter century wrapped up in oak. Vanilla, citrus, and taste of coffee lead your mouth to a peppery rye finish.
William Larue Weller
William Larue Weller is a bottle for bourbon lovers who like big flavors and high alcohol content (around 125 proof.) Any bottling from the Buffalo Trace Antique Collection is tough to find, and after Pappy, this one is probably the most scarce thanks to the fact that it was named 2019 World Whiskey of the Year by Jim Murray's Whiskey Bible. Buttery with rich oak, chocolate, dried fruits, and burnt sugar, it's a fiery whiskey that does well with a touch of water.
Didn't Get a Refund? Try: Wild Turkey Rare Breed
If you're like me and had to pay Uncle Sam a tidy sum with a little extra vigorish on top, may I recommend a bottle of Wild Turkey Rare Breed? Its's a thick and rich cask strength whiskey that clocks in at 116 proof to help take a little of the sting off the fact that you had to pay up. But at least you can celebrate the fact that your taxes are done.
This article was originally published on