The Best Waffle Makers For A Perfect Syrup-Soaked Breakfast
Looking for a waffle maker? These are the best ones from brands like Breville, Cuisinart, All-Clad and Krups.
by Terri Peters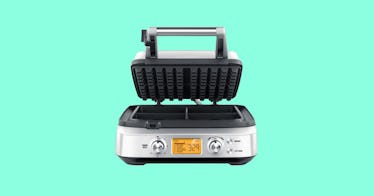 Whether you choose between a Breville waffle maker or an All-Clad waffle maker, the goal is to wind up with golden waffles worthy of breakfast. We're talking about heaping towers of syrupy goodness. For that, of course, you'll need your own waffle maker, a seemingly simple appliance that can be surprisingly tricky to shop for.
Before you buy a waffle maker for your breakfast, you'll want to decide if you're into classic waffles or thicker Belgian-style waffles. And then, look at the features you need. Most waffle makers are non-stick, which makes cleanup a non-issue. Some models only make waffles, while others have interchangeable plates that also create paninis.
We've rounded up some of the best waffle makers available, from high-end deluxe models to space-saver geniuses. The only thing left for you to decide is which toppings to serve.
Best Waffle Makers
Pros: Of course, one of our favorite kitchen brands wins at the waffle game. The extensive settings options on this waffle iron make it possible to cook the perfect waffle for everyone in your family. And, this unit also makes four waffles at a time, making it quick and easy to cook breakfast for a big crowd. There's a nonstick moat to stop excess batter from overflowing onto your counter.
Cons: This may be too big a splurge for an occasional Saturday morning breakfast treat.
Pros: The Bella waffle maker rotates to make gorgeous waffles every time. And you flip it upside down for easy storage.
Cons: It makes Belgian waffles only, so you better like them.
Pros: We especially like the extra-deep pocket, which allow parents to stuff the waffles full of fruit. And you can choose from five specific browning levels.
Cons: People complain that it takes a long time to cook through waffles, if you want them really crispy and brown.
Pros: This waffle maker is basically idiot-proof, and ideal for those who don't have massive kitchens or lots of storage. You flip it open, pour in the batter, snap it shut, and set it go cook on whatever setting you prefer. Flawless waffles, every time. And because it's nonstick, there's no mess.
Cons: While its vertical form factor saves counter space, you're still dedicating it to an appliance that does only one thing, which may not be worth it in the end.
Pros: This waffle maker has four different "crunch factor" settings so you can choose your preferred consistency. Its designers eschewed traditional flat waffle makers for a "volcano" shape that allows you to pour batter into a hole in the top, allowing it to flow evenly down the sloped cooking surface evenly.
Cons: The top of the unit gets very hot, so it's not great for kids or klutzy adults.
Pros: This unit is made of stainless steel, making it an attractive appliance. And it has seven different browning levels.
Cons: This waffle maker is 6.5 inches in diameter. That means it's not big. At all.
Pros: You get a set of four Belgian waffle plates, and a four-slot pancake plate. Both are nonstick and dishwasher-safe, and it's nice to have twice the bang for the buck.
Cons: The pancakes come out on the smaller side.
Pros: This waffle maker is seamless and easy to use. You simply swap out the plates to make either Belgian-style waffles, or deep-pocket sandwiches you can stuff with cheese, veggies, turkey, what have you. And the plates are dishwasher-safe.
Cons: Some complain that the waffles come out uneven and too thin.
Every product on Fatherly is independently selected by our editors, writers, and experts. If you click a link on our site and buy something, we may earn an affiliate commission.
This article was originally published on