Best Vacuum Cleaners for Your Home Carpet
These are the best vacuum cleaners money can buy.
by Ben Radding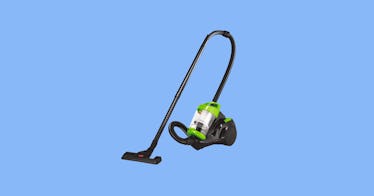 Vacuums are a parent's best friend.
That's because kids make messes. Pets make messes. You make messes. For parents, a great vacuum cleaner for the home carpet isn't a luxury; it's an absolute necessity. The problem? Vacuums are a dime-a-dozen these days, with so many on the market and all of them promising incredible results. In an era of top-of-the-line vacuuming technology, we're all faced with the tyranny of choice.
To narrow it down, we thought about what the perfect vacuum cleaner should be. First of all? Lightweight. It won't do you much good to have a behemoth that's hard to move around, so every vacuum we chose had to weigh less than 15 pounds. We only considered models with great reviews, of course, and we also looked for modularity — how the vacuum can change to tackle specific cleaning challenges. We came up the best vacuum cleaners for your home, all of which will leave your floors nice and clean.
Pros: Other robot vacuums either vacuum or mop, but not at the same time. Enter the new Roborock. It does both. It efficiently cleans your home and has 13 types of sensors to minimize the very real issue of getting repeatedly stuck under couches or dressers.
Cons: There are some issues with WiFi connectivity and suction power.
Pros: Like the Dyson, you press a button and empty out its debris, without touching anything nasty. The Shark vacuum has a tapered nozzle for easy pickup and two accessories for tackling pet hair, upholstery, and tight spaces.
Cons: You get what you pay for. In this case, you only get two attachments, as opposed to those you get with the Dyson.
Pros: The vacuum has a genius way of emptying its waste bin, which means you never have to touch unspeakable things again. It's small and powerful, with a ceramic shaft instead of steel. It spins at up to 125,000rpm, generating the same suction as a full-sized vacuum. Oh, and it weighs less than six pounds.
Cons: The price is no joke, but this monster lasts for forever.
Pros: For starters, it's seriously quiet, for a robot vacuum. It's much more reliable than previous versions, meaning it gets stuck less and sucks more. You get premium three-stage cleaning to pick up dust, pet hair, and allergens. And you decide how often it cleans, and when.
Cons: It's expensive, and the docking station is massive.
Pros: For this price, you also get the Parquet Twister, which provides 180 degree rotation. Plus, this transitions automatically from hardwood floors to carpets and back again. Oh, and it has a telescopic, stainless steel wand and super-long cord that provide a total cleaning radius of 36 feet. It has six speed settings that you control via a foot switch.
Cons: Well, the price. And some users say it clogs way too easily.
Pros: We have to start with the accessories you get: a crevice tool for hard-to-reach areas, a dusting brush that rids your home of allergens, and an upholstery tool for more delicate surfaces. The extra-wide nozzle (12.6 inches) allows you to clean wide swaths without moving back and forth.
Cons: A bagless vacuum does come with a downside: you'll have the clean the dust cup between each use. It's large, but a bit of a hassle. Because it's budget-friendly, it's made of plastic — so don't whip it around the house nonchalantly if you want to keep it in one piece.
Pros: Its large wheels roll over virtually anything to make sure your whole room is spotless. Its sensor stops it from falling down the stairs, and it runs up to 100 minutes per charge. The dust box is fairly large, holding 0.6 liters of grime. At only 2.85 inches tall, it easily slips under furniture.
Cons: There's something to be said for doing it yourself — after all, you probably know your carpet best. A robo-vacuum can also easily spook a pet, so maybe hold off if your dog or cat is extra jumpy.
Pros: Powerful for its 12.5-pound weight, not a feather but also not much of a burden. It has a HEPA filter, trapping most allergens and bacteria in your home. It comes with a short array of attachments, including a dusting brush and a crevice tool.
Cons: Due to its modular design, the power cord starts at the base of the vacuum—some users complain about catching their feet on it. The nozzle is only 9.5 inches wide; other vacuums are a little bit wider, allowing you to vacuum a wider swatch of carpet with each pass.
Pros: Automatic cord rewind means the days of wrapping (and untangling) cords are in the past. There's also a dirt cup that's easy to empty and, at eight pounds, you won't hurt your back pulling this thing out of the closet.
Cons: The cord is only 15 feet long, so you might find yourself stooping over to unplug and replug it often if you have larger areas to clean. No spinning brush to agitate in the deepest recesses of your carpet.
Pros: The ultra-soft brushes on this cleaner are essential for cleaning expensive or soft carpets without damaging them. The wheels are also especially large, helping you to move smoothly around your house. It has a "Quiet Mode," so you won't spook the dog and dozens of other settings that you can adjust to match whatever you're doing. Even the bags are no joke: HEPA — high-efficiency particulate air — filter bags capture dust, dirt, and particles that could bother your family. You can get replacements here.
Cons: This performance doesn't come cheap, but it's an investment that's definitely worth it if you have high-quality carpets and rugs.
Every product on Fatherly is independently selected by our editors, writers, and experts. If you click a link on our site and buy something, we may earn an affiliate commission.
This article was originally published on