The Best Travel Workout Equipment, According to a Personal Trainer
Each item packs easily and will help you stay in shape on the road — no matter your fitness level or frequent flier miles.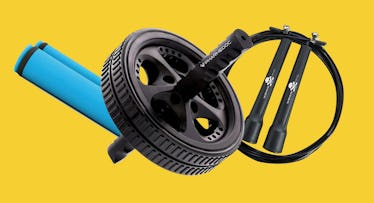 When you're traveling for business or vacationing with the family, it can be hard to find a gym that fits all your workout needs. That's why it's a good idea to pack a few pieces of workout equipment, including resistance bands, foam rollers, jump ropes, and more that are easy to stow in a suitcase but allow you to exercise and stay fit wherever you end up. To help us nail down the ideal assortment of excellent travel workout gear, we spoke to Chris Stevenson, CSCS, owner of Stevenson Fitness in LA, and an international fitness and wellness speaker. Stevenson devised this list of on-the-go gadgets. Each packs easily and will help you stay in shape on the road — no matter your fitness levels or frequent flier miles. Take a look.
CUXUS 11-pc Resistance Band Set
"This set gets five stars," says Stevenson of this resistance band set. "It's the best of the bunch, by far." The exercise selection is endless, given the fact that you can change everything from the resistance to the placement on your body to the location in which you work out. Another bonus: Considering that this set contains 11 pieces, it's inexpensive.
NSD Gyroscope Spinner
"It's unique, for sure," says Stevenson of this tiny gyroscopic device which is meant to target the outside forearm, wrist, and fingers. "You might think that's a pretty limited range of exercises," he says, "and you'd be right." But the exact nature of this spinner, he adds, makes it perfect for someone in physical therapy who is traveling but still needs to crank out some exercises to promote a healing muscle or joint. Or someone with a chronic condition that requires routine exercise. "It's inexpensive, easy to pack, and you control the motion and resistance yourself," he says, adding: "If anything, it'd be fun to play with."
PharMeDoc Ab Roller Wheel
"A lot of ab wheels are big and bulky, making them a pain in the ass to pack," Stevenson says. "This one seems to be a much more compact version, without sacrificing the function of the basic workout. It's inexpensive — surprisingly inexpensive, really – and great for core work, which usually demands a higher fitness level. So, you might want to get yourself comfortable with it at home before you dedicate valuable suitcase space to packing it along."
Pro Tech Hollow Foam Roller
Whenever he travels for extended periods of time, Stevenson always packs a foam roller. "They're great for therapy, stretching, and recovery," he says. "Plus, it can help with everything from stiffness due to long flights and crappy hotel beds, to jet lag." Foam rollers, he admits, are bulky and hard to pack. But the Pro Tech, as its name states, is hollow, so you're able to stuff clothes and toiletries inside. This makes it far easier to pack.
Survival and Cross Jump Rope
"This is a great jump rope," says Stevenson. "It's lightweight and fast, which is perfect if you're training for reflexes or endurance, and it's adjustable without being in the way." It has five-inch handles, a 10-foot rubber coated steel cable, and two sets of adjustable collars so you can tweak its length.
Core Sliders
Stevenson loves these easy-to-stow sliders for one reason: their sheer versatility. "If you've got a nice, frictionless floor, you can use these sliders to build strength in just about any part of your body," he says. "They're great for beginners, all the way to advanced exercisers, and they're relatively low-impact, which is great for your joints, and for not disturbing the rooms next door." Here's a hack, though: if you forget yours at home, a hand towel will work just as well on the right type of flooring.
Monkii Bars
An updated version of the classic resistance bands, Monkii Bars feature a pair of aerospace-grade aluminum tubes attached to a piece of 18-foot nylon webbing that you then attach to the door using a special case. They're easy to pack thanks to their sleek carrying case and, per Stevenson, they also have an excellent app full of interesting workouts. They are, however, on the expensive side: "You'll want to make sure you're the type who can stick to your fitness commitment with this type of investment," says Stevenson.
Every product on Fatherly is independently selected by our editors, writers, and experts. If you click a link on our site and buy something, we may earn an affiliate commission.
This article was originally published on