The Best Portable Cribs for Bringing Your Baby on Vacation
Because your kid needs a safe and comfortable place to sleep.
by Aaron Stern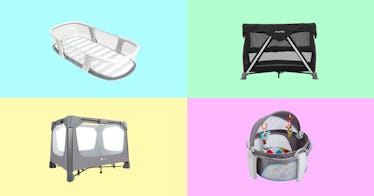 There's no winging things when you're a parent, especially when you're a parent during a global health crisis. If you're going on a road trip with your baby, you need a safe, clean, and comfortable portable bassinet or portable crib for said infant to sleep in. It's why a travel crib is a smart investment that, if chosen wisely, should serve you for years to come.
Before you go crazy buying the most tricked-out portable crib on the market, put away your wallet.
"A firm mattress should be the only thing in the crib. A baby can't appreciate a fancy crib," says Dr. Sumit Bhargava, a pediatric pulmonary and sleep medicine doctor at Stanford Children's Health in Palo Alto. "Your baby should be sleeping on a firm, flat surface, with nothing inside the crib. That's it."
A travel crib, an easy transportable, enclosed sleeping surface designed for babies, makes it easy for your baby (and therefore parents) to get some shuteye after a long day navigating different time zones. First and foremost, you want it to have a flat sleeping surface, because those are the safest options for your baby, as stated above. The portable cribs on our list are lightweight and fold up compactly. They're easy to carry, and they open and shut smoothly with minimal effort; custom included tote bags are an added bonus for hauling them around. They also have removable mattresses and/or washable mattress covers, because, you know, babies.
Also worth nothing: All the cribs below can be assembled in under five minutes. Some other options may be more versatile or look cooler, but honestly, at the end of the day, you do not want to be threading anything through anything.
Every product on Fatherly is independently selected by our editors, writers, and experts. If you click a link on our site and buy something, we may earn an affiliate commission.
This article was originally published on