The Best Backpacks for Travel
Looking for a solid travel backpack? Here are some great ones for your next trip.
by Elizabeth Alterman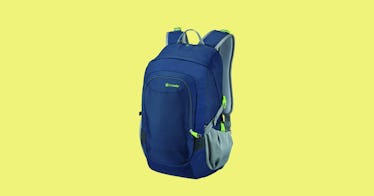 Whether you're spending the weekend in the wilderness or embarking on an urban adventure, having the right travel backpack can make or break your trip. You want something roomy, with designated places for everything from your laptop to your toiletries. At the same time, you need to be able to carry it without it weighing you down. The best backpacks check all of those boxes, and then some.
But with nearly as many options as there are destinations, it's hard to know which backpack will be your best travel companion. That's why we found the best backpacks for both long and short stays, ones that will get you through security checkpoints with ease and through long walks with relative comfort.. Now all you need to do is book those tickets and you're good to go.
Pros: This is your carryon companion. It has padded shoulder straps plus a back panel that makes toting it around easy and comfortable. It fits your iPad, plus clothes, plus gadgets, plus whatever else you need. And it has wraparound handle so you can hoist it out of the overhead bin without breaking your back.
Cons: The straps aren't as solid or padded as some would like, so if you spend most of your trip walking around with it you may get a bit sore.
Pros: The Peak Design travel backpack is equipped tons of internal and external pockets, plus a main cavity that's divisible via a zippered mesh sleeve. It has tuck-away shoulder straps. The exterior is a sleek, weatherproof 100 percent recycled 400D nylon canvas shell. And it shrinks down to suit your travel needs.
Cons: It's a lot of money to spend on a backpack.
Pros: This travel backpack is suitable for long-term use thanks to its ergonomically-contoured shoulder straps, made from mesh fabric that rests easily on your shoulders. You will benefit from its airflow ventilation technology, which lets you keep this on your back for hours without turning into a sweaty mess.
Cons: It can be complicated to use, thanks to its many features.
Pros: The venerable luggage brand scores again with an ideal travel backpack that's sleek yet practical. It has a water-resistant pocket for your water bottle, a quick-access phone pocket, and the fact that it's nylon makes it lightweight and durable. It's just as suited for day trips as it is for the office.
Cons: The styling is kind of ordinary, but the price is not (and not in a good way).
Pros: No more digging around, frantically searching for socks or chargers. Just store your necessities in one of the three packing cubes for easy and instant access. Better yet, the Hynes travel backpack is convertible, quickly transforming into a duffle bag. It has one front zip pocket, multiple interior slip pockets, room for your laptop, a side bottle pocket, and an adjustable sternum strap.
Cons: The comfort level and lack of padding leave something to be desired.
Pros: It bears repeating: this thing is just $20, by far the least expensive option on our list. For the Jackson you get plenty of storage space, clever features like a luggage strap and external USB port, and lightweight, durable fabric.
Cons: One of the few gripes reviewers have with this backpack is that it's not the most well-padded option out there, so it might not be the best if you're planning on having it on your back all day.
Pros: You can fit a laptop up to 17 inches in the padded sleeve, and there are side pockets for a water bottle and other small items you want quick access too. There's also a removable pad that cushions your back and can be removed to serve as a seating pad in a pinch.
Cons: The double strap, top flap enclosure over a drawstring means it's difficult to get to the main compartment quickly.
Pros: Travelers can feel secure using this backpack, which features securable zippers and cut-proof material. Plus, it has an RFID-blocking pocket to keep your credit cards secure.
Cons: It's better-suited for folks who have larger frames, and not so great for the petite.
Pros: Owners of this travel backpack liked the extra padded support on both the chest and waist straps as well as the fact that the fabric didn't tear when stretched to the max.
Cons: The back of the pack arguably doesn't have enough pockets.
Pros: This pack is highly adjustable, with straps that pull together the shoulder pads at both chest and hip level. It's also affordable when you consider the impressive 60 total liters of space you get with this pack.
Cons: There are two water-related issues we have with this pack. One, it's not waterproof, so you have to be careful if the weather turns inclement. Two, there's no water bottle holder, a bizarre omission of a feature that's standard on the vast majority of packs.
Every product on Fatherly is independently selected by our editors, writers, and experts. If you click a link on our site and buy something, we may earn an affiliate commission.
This article was originally published on