This Toddler Train Set Is one of Fatherly's Best Toys of the Year
Only one ingredient needed: Imagination.
by Donna Freydkin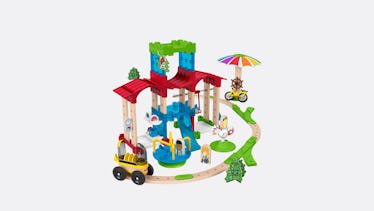 Here at Fatherly, we're dead serious about our toys. Because despite some very cool releases this year, there's still mountains of junk we had to sift through to find the real gems. And that's why, when it came to choosing the best train sets, we selected the wonderful Fisher-Price Wonder Maker building sets.
So first, a little background. By age three, according to the child development experts at Zero to Three, your kiddo will be fully immersed in the world of pretend-play. That means he or she will be creating entire lands and ecosystems, and will use toys to learn how to problem-solve. Plus, by age three, kids are nimble and use their hands and fingers to pick up and play with toys, and maneuver them around. (Don't have a 3-year-old yet? There's still lots of cool stuff for 2-year-olds out there, too.)
And that's where trains come in. Cars are great because they're mobile, but train sets up the ante by letting kids build entire cities, or stations, using tracks and cabooses. They learn hand-eye coordination and develop their fine motor skills by fitting train tracks together and moving play pieces. Most of all, train sets are open-ended instead of being linear: They let kids play with them however they want, rules be damned.
"A good train set should have a lot of possibilities and it should make it easy for the child to build a big variety of tracks. A train set might even be better for a young child, compared to blocks, because there's a relatively clear goal: the pieces of the track fit together, and you try to connect them from end to end so that a train can go around and around," says Keith Sawyer, a Morgan Distinguished Professor of Educational Innovations at the University of North Carolina-Chapel Hill school of education who has spent his career studying creativity and learning.
Adds Zero to Three program director Rebecca Parlakian: "Pushing a train around obstacles like blocks or laying track in a circle so that it meets seamlessly is a naturally occurring spatial 'problem' that is fun for children to solve. These moments also build spatial reasoning skills or the ability to think about objects in three dimensions. Train play also builds a child's spatial awareness or ability to understand where objects are located in relation to one another."
Most train sets, however, are stuck somewhere between infantile (cheap and plastic and huge) and advanced (tiny, fragile wood pieces that require handling with care). Fisher-Price Wonder Makers hit the sweet spot, by making play pieces that are the perfect size for toddler and preschooler hands. They're easy to grasp. Easy to move around. Easy to stack and take apart. And the sets are quality: They're made of real wood, rubber, and soft fabrics.
The Wonder Maker sets (so far, there are nine total) encompass entire worlds, connected by trains. While these sets are specifically built for toddlers, their complexity and handsome design might make your big kids — with their snap-together tracks and electric trains — jealous. Kids mix and match pieces to build recycling centers, schools, campgrounds, and package delivery centers. You'll be hard-pressed not to get them all.
Every product on Fatherly is independently selected by our editors, writers, and experts. If you click a link on our site and buy something, we may earn an affiliate commission.
This article was originally published on