20 American Made Toys That Make Excellent Gift Ideas
From blocks and crayons to kites and trikes, these 20 fantastic toys are manufactured in the good 'ole USA.
by Ben Marx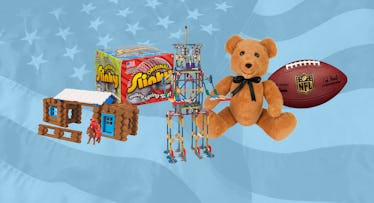 By some estimates, 90 percent of the toys kids play with in the United States are made overseas. It's a sad truth of economics. If you're looking for kids gifts and you want cheap toys, you need cheap labor and raw materials. Even many of the toys that manufacturers claim are "Made in the USA" are more likely than not simply "assembled" here out of imported international parts. And unless you call the company directly or do some deep internet sleuthing, it's hard to know which are American-made toys and which are "made in America" only in a marketing sense.
RELATED: The 25 Best Independent Toy Stores in America
That said, there are still plenty of toy companies that remain committed to using American materials and manufacturing their products in the U.S. And the best part about buying them, other than a sense of pride in country, is that U.S.-made toys must meet stricter consumer safety regulations than imported toys, so in some instances, they're safer. But which toys fit the bill? We went digging for the best American-made toys that are manufactured 100 percent in the good old US of A.
Wilson Footballs
Wilson's manufacturing facility in Ada, Ohio, is the oldest leather football factory in the world and has made every football for every NFL game ⏤ plus the one you throw around with the kids ⏤ since 1941.
K'NEX Building Toys
K'Nex building toys may be enjoyed by kids the world over but every interlocking K'Nex piece is produced in Hartfield, Pennsylvania, and has been since the toys hit store shelves in 1992.
Castakite
Castakite EZ Kite Flyer's concept is simple: It's an all-in-one kite launcher and flyer that's modeled after a fishing pole. They don't tangle, and they don't require kids to run to catch the wind. But they do let kids easily control the kite at altitudes of up to 150 feet. Unsurprisingly, Castakite's founder, Matthias Hackett, is an avid fly fisherman.
Tinkertoys
Tinkertoys were invented in 1913 by a stonemason named Charles H. Pajeau and his partner Robert Petit, who together started the Toy Tinker Company in Evanston, Illinois. Today, the rights to the Hall-of-Fame Tinkertoy brand are owned by Hasbro but they're manufactured by K'NEX.
Lincoln Logs
It fitting that these classic miniature logs ⏤ invented in 1916 by the son of famed architect Frank Lloyd Wright and named after 16th President ⏤ would be made in the United States, but that's only been true since 2014. That's when production was moved back from China to a wood company in Burnham, Maine.
Crayola Crayons
All of Crayola's iconic wax writing implements and art supplies are manufactured at the company's factory in Easton, Pennsylvania. There's even a Daniel Tiger episode where they take a tour. The facility churns out about three billion Crayola crayons each year, or 80 to 90 percent of the world's total crayon supply.
Wiffle Ball Bat and Ball
The classic slotted ball was created in 1953 by a semi-pro baseball player from Connecticut and was just inducted into the Toy Hall of Fame this year. Every official Wiffle Ball ever made has come from The Wiffle Ball Inc.'s factory in Shelton, Connecticut.
Stuffington Bear Factory Classic Bear
Stuffington Bear Factory is headquartered in Phoenix, Arizona, and has been designing and producing handmade stuffed animals (using materials sourced entirely from other American manufacturers) since 1959. Stuffington's factory is also known for its tours, which let you catch all the stitching action up close and personal.
The Original Slinky
The slinky's design is so beautifully simple and cheap to produce that knockoffs are ubiquitous across the globe. But for the real deal, look no further than Hollidaysburg, Pennsylvania. The coiled toy was originally introduced in a Philadelphia department store, and manufacturing has remained in-state ever since. The slinky even became Philadelphia's official state toy in 2002.
Silly Putty Original
The stretchy, egg-housed putty is actually owned by Crayola and, like the company's crayons, is also manufactured entirely in Easton, Pennsylvania. It has been since its invention in the 1940s. Fun Fact: Silly Putty was so popular 50 years ago that Apollo 8 astronauts took it to space in 1968.
Maple Landmark Ultimate Town Train Set
Maple Landmark's Ultimate Town Train Set is handcrafted in Vermont from sustainably-harvested, locally sourced maple. The set features 56 individual pieces, including curving tracks, figurines, and 16 vehicles, all finished with coated non-toxic paints and dyes.
Swurfer Tree Swing
The Swurfer is a curved board that hooks onto tree branches and combines the power and stability of a surfboard with the range of motion of a swing. It's awesome. It's also manufactured by Flybar ⏤ the company that's been making the Pogo Stick since 1918 ⏤ out of Ellenville, New York.
Dirt King Tricycle
Dirt King's burly three-wheeled riders, which are proudly made state-side in California, boast oversized wheels that can crush any terrain. Are they overkill for a kid's first tricycle? Maybe. Is it awesome precisely because of that? Absolutely.
Green Toys Fire Truck
Green Toys is renowned for producing all of its toys from 100 percent recycled materials in either their San Francisco and Chicago-based facilities. The Fire Truck is a classic, simple vehicle with no metal axles that's made entirely from recycled plastic milk containers.
Uncle Goose Upper & Lowercase Wooden ABC Blocks
Uncle Goose produces educational blocks, including collections that feature the ABCs, math symbols, historical figures, and foreign languages. All Uncle Goose blocks are handcrafted in Grand Rapids, Michigan, using sustainable Michigan basswood and child-safe inks.
Louisville Sluggers Bats
The Hillerich & Bradsby Company has been making baseball bats since the 1880s and, while the company is now owned by Wilson Sporting Goods, continues to do so from its factory in downtown Louisville, Kentucky.
TimMee Plastic Army Men
Little green army men are an undisputed staple of American playtime, having been introduced to kids in the 1930s, inducted into the Toy Hall of Fame in 2014, and popularly depicted to younger generations in Pixar's Toy Story franchise. While originally manufactured in Germany, TimMee's U.S. infantry troops were first produced in Illinois by Processed Plastic Company (now a division of J. Lloyd International) in 1968.
Original Flying Turtle
Designed by a retired Boeing engineer in the 1970s, the original Flying Turtle is a steerable scooter kids ages 3 to 10 (or up to 150 pounds) can sit in. Mason Corporation produces the Flying Turtles at its factory in Brentwood, Tennessee.
Berlin Flyer Wagon
The Berlin Flyer Wagon is pretty much a classic wagon. No bells or whistles, but it's constructed with all-American materials by Berlin Wood Products, and has been since the early '70s.
Little Tikes TotSports Easy Score Basketball Set
Not only does this basketball set feature an adjustable hoop, but it also comes with a special, miniature ball that fits smaller hands. The set is one of a handful of Ohio-based Little Tikes products produced entirely in the U.S., and it's designed for kids up to 5 years old.
This article was originally published on