The 12 Best Toys From The 2018 International Toy Fair
From robotic velociraptors to roller skates that have their own engine.
by Dave Baldwin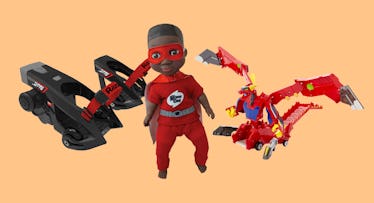 Damn, the future of fun looks fun. At the annual Toy Fair, which took place this weekend in NYC, more than 150,000 toys were on display. There were scores of robots, stuffed animals, sports gear, miniatures, collectibles, coloring tools, science kits, and a lot of games that revolved around poop (#2 was the #1 trend this year). After walking the floor, we no shortage of toys of things to be excited about in the coming year —both for your kids and yourself. Of the thousands we saw during the show, these 12 were our favorites.
Part of Nerf's Rival line for older kids (14-years-plus), the Prometheus MXVIII-20K is a hip-held fully automatic cannon with a chainsaw grip that can unleash a ridiculous eight shots per second at up to 70 mph. It fires up 200 dimpled foam rubber balls instead of darts (so it's more accurate than traditional Nerf guns), has a safety to ensure nobody accidentally shoots out the dog's eye, and is powered by a rechargeable NiMh battery. ($200, Available Fall)
Dojo In A Box
Bringing martial arts to family game night, Dojo In A Box is a board-breaking game in which players get points for kicking or punching official plastic training boards. It comes with full instructions for learning proper martial arts technique, and there are two versions available: Classic (ages 7+) and Tournament Pro (ages 11+).
Merge 6DoF Blaster
Following up on last year's handheld hologram, the Merge Cube, the VR/AR specialists at Merge Labs are back with the 6DoF ("Six Degrees of Freedom") Blaster. Simply slide an iPhone in, start the app, and you're ready to do battle in virtual reality. When you run, jump, and duck around the house playing this first-person shooter game, it runs, jumps, and ducks on screen with you ⏤ no goggles required.Merge 6DoF Blaster ($50, Available Summer)
Razr Turbo Jetts
Putting a new high-tech twist on roller skating, Razr's electric heel wheels have a built-in 80-watt motor, hit a top speed of 10 mph, and can run for 30 minutes on a single 12 Volt lithium-ion charge. They strap on to any pair of shoes and can hold up to 176 pounds.
Vintage Collection Jabba's Sail Barge (The Khetanna)
The first toy to debut on Hasbro's new crowdfunding platform, HasLab, this massive collector's edition barge from Return of the Jedi won't be produced unless 5,000 backers sign on. Assuming they do, however, it's going to be glorious. The Khetanna will measure four-feet in length, offer accessible interior and exterior decks, and include both a prisoner's cell with a sliding door and 3.75-inch scale Jabba down below.($500, Pre-order Now)
Chillafish Monzi
The latest from Belgium kid-car and balance bike specialists Chillafish, the Monzi is a dead sexy pedal go-kart that folds up for easy storage, no tools required. It rocks 12-inch "Airless RubberSkin" tires, automatic forward and reverse freewheel pedaling, and a pull handbrake for quick stops. It will come in red or blue and includes a wall mount.($199, Available March/April)
Victury Ultimate Indoor Training Ball
The Victury is a soft-shell regulation-size five soccer ball that's designed to be kicked full force indoors without breaking any windows. It's made out of a paper-light kite material, rocks a patented re-inflatable KrunchKor bladder, and weighs under one ounce ⏤ compared to 16 ounces for a traditional ball. So even though it feels almost like kicking a thick balloon, it can withstand up to 100 pounds of pressure.
Bringing FurReal technology to its Star Wars collection, Hasbro's interactive Ultimate Co-Pilot Chewie responds to external commands and speech with over 100 sounds, motions, and facial expressions. Rub his head, for example, and the 16-inch Wookie will raise his arms and greet you with a glorious roar. Ask him to fix the hyperdrive on the Millenium Falcon and, well, he still can't do that ⏤ but you can get him to take a nap. He comes with poseable legs and his iconic bandolier and satchel. ($130, Available Fall)
Jurassic World Kamigami Dinosaur Robots
Built by folding and snapping together flat sheets of plastic, Kamigami robots include a bevy of sensors (3-axis accelerometer, gyroscope, etc.) and are programmed using a tablet or smartphone ⏤ so kids get those highly touted STEM skills. They debuted last year as bugs but are back this Spring in the form of Jurassic World's Velociraptor "Blue" or Villain Dino, each with anatomically correct legs and life-like dinosaur movements. ($60, Available Spring)
Wonder Crew Dolls
Winner of this year's Toy of the Year Award for best doll, Playmonster's Wonder Crew is a line of 15-inch dolls designed for boys. Or, more specifically, designed to "combine the adventure of an action figure with the emotional connection of a stuffed animal" and appeal to boys. They're available as four Superheros (Will, James, Erik, and Marco) and come with a matching kid-sized cape and mask.
Moderno Kids Mercedes G63 6×6
Moderno's new 2-in-1 Mercedes G63 6×6 is a toddler push car that converts into an electric ride-on. And it stands out for three very cool reasons: First, the removable push handle offers active steering, so parents can control the car's front wheels. Second, the gas pedal tucks away until the child is old enough to drive on their own. Third, it can hold up to 200 pounds, so you could ride too if your toddler doesn't object. It boasts a 1.5 hour run time and MP3 stereo system.($149, Available April)
Mecard
Based on a Korean animated television series, Mecard is a new line of collectible Transformer-style cars that literally flip into robots when they run over one of the accompanying battle cards. There's also a game component in which players score points when their Mecardimals face off against one another in the battle arena. Want to see them in action? Here's a video of us testing them. ($15, Available Spring)
IAmElemental's Wisdom Core Power Action Figure
Inspired by Hypatia, the prominent female philosopher, astronomer, and mathematician from 4th-century Alexandria, IAmElemental's 6.5-inch Wisdom Core Power is the final release in the company's second series of "girl targeted, boy inclusive" Wisdom Warrior action figures. She stands 6.5-inches tall, has more than 30 points of articulation, and will include armor, bow and arrow, and a Wisdom shield.($25, Available Fall/Winter)
This article was originally published on