The Best Sensory Toys for Children With Autism
These toys will keep your child engaged and help with their development.
by Donna Freydkin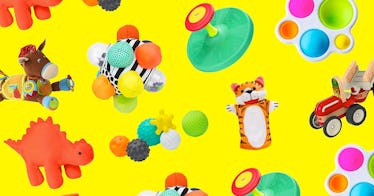 When buying toys for children with autism, parents may wonder what specific considerations to keep in mind. Are there special sensory toys for kids with autism? Toys with certain textures or sounds that might fare better with autistic kids? Turns out choosing the right toy for a child with autism is a lot like picking out a toy for any other kid. Let the child's interests guide you just as you would with a neurotypical child, says Kristie Patten Koenig, Ph.D., an occupational therapist and associate professor at New York University. There's no such thing as the perfect toys for autistic kids, so lean into what actually interests them.
"With autism, kids have preferred interests. They may be focused on one thing. Some paradigms say to expand their play repertoire. I tend to look at that differently. If they are interested in trains, it's a great avenue for learning and a way for parents to connect with their kids," Koenig says. "Just remember that there's no magic toy that helps autism."
Mandi Silverman, Ph.D., a child psychologist who specializes in autism, suggests that parents follow their kids' lead. "Buy toys your kids like. You follow their interests. That said, I would tell parents to get toys that encourage your kid to engage with you or other kids. That's the goal." Certain toys are better than others at encouraging collaborative play, when children interact with each other, as opposed to parallel play, in which children play near each other but independently. When buying gifts for any children, including those with autism, opt for toys that can be shared between kids and encourage the use of imagination, such as dollhouses and play kitchens.
Parents might also look for toys that encourage physical activity, such as swings or balls. As far as sensory toys go, books with sounds or textures are great for engaging kids' senses. Most importantly, choose toys that don't have a hyper-specific use but rather allow for creativity and open-ended play, so kids can use them however they want in developmentally appropriate ways.
Every product on Fatherly is independently selected by our editors, writers, and experts. If you click a link on our site and buy something, we may earn an affiliate commission.