The Best Toy Subscription Boxes for Kids
These personalized shipments of toys, games, and projects serve as a curated way to keep your kids entertained — and excited for the mail.
by Fatherly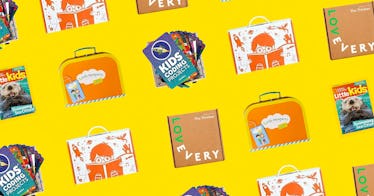 Shopping for toys is burdensome, because you always wind up leaving not with the educational STEM toy you swore you'd buy, but with throwaway plastic junk you know will wind up under your couch in days, if not hours. That's where subscription boxes for kids can really be a sanity saver. The best toy subscription boxes for kids stimulate their imaginations and inspire them to explore the world around them, with the extra element of surprise because they don't know what's in it. These monthly subscription boxes for kids encourage deeper investment in activity and play than what's inspired by your average plasticine clutter. Whether you want your kid to pick up some STEM skills or are hoping to feed their emerging love for literature, the idea is to subscribe to excitement. Take that approach and everything tends to work out just fine.
Every product on Fatherly is independently selected by our editors, writers, and experts. If you click a link on our site and buy something, we may earn an affiliate commission.