The Best Toy Storage Organizers for Keeping the Toys at Bay
Contrary to what your kid thinks, the floor is not a good place to keep toys.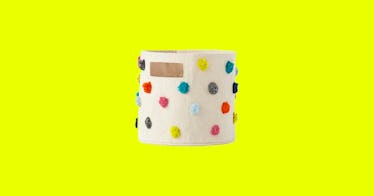 Even if you're lucky enough to have a dedicated playroom, kids' toys are rarely manageable. You may have figured out how to go minimal with toys, crafts, and books, but they still seem to multiply when you're not looking. And the toy storage bins and organizers either don't get used or else they make it difficult to find things (these two phenomena are related). In addition to a big, fat mess, you're left with toes stubbed from Legos, stickers stuck to your ass, and just a generally unsafe walking experience. Luckily, there are actually some magical toy storage organizers that make it easy to keep toys orderly and accessible.
Of course, the storage unit that works best for you will depend on what types of toys your kid gravitates towards. If they like balls and big trucks, or larger dolls, then a toy storage unit with larger, deeper compartments, like a toy chest, may be the way to go. But if your kid favors arts and crafts, or smaller toys with lots of parts, you'll want a toy organizer with compartments and removable bins (preferably ones that provide some visibility into what's inside). These are the best toy storage solutions we found, based on the toys you have (literally) lying around your house.
Every product on Fatherly is independently selected by our editors, writers, and experts. If you click a link on our site and buy something, we may earn an affiliate commission.
This article was originally published on