The Best New Toys Revealed at San Diego Comic Con
From new Ninja Turtle figures and a life-sized BB8s to a mech-suited Spider Man and lots of new Pokémon.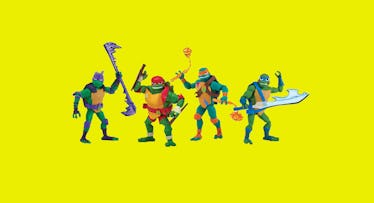 San Diego Comic Con is the number one pop-culture event in the country, and a great place to be if you're looking for the latest on new toys (or if you happen to sell deodorant…the convention center is a sweaty place for Cos Players). We rounded up some of our favorite reveals from this year's show, from new Ninja Turtle figures and a life-sized BB8s to new Spider-Man figures and Pokémon sets, all of which you'll be able to snag for yourself and your kids in the coming months. Take a look.
Rise of the Teenage Mutant Ninja Turtles Four-Pack
The latest animated take on the classic green guys hits Nickelodeon fall. What does that mean? Toys, toys, toys! Start off with this basic assortment of dudes, which features each of the Turtles, plus their new weapons. The highly-detailed figs are fully articulated, and range from 3.25" to 5" tall. And the entire line of figures will feature new characters such as lead baddie "Baron Draxum" (voiced by WWE's John Cena), and his awesomely-named number two, "Meat Sweats".
Lego Spider-Mech and Venom Suits
Build a brand new battle with the Spider-Man vs. Venom Mech set from Lego, which features two bionic bots, themed after the Webslinger and his arch-nemesis. The set also includes a load of minifigures, such as Aunt May, Spider-Gwen (with hoverboard), plus Spidey and Venom, themselves. The 604-piece set is perfect for reminding Tony Stark that his Hulkbuster armor isn't the only giant mechanized exoskeleton on the block. THWIPP!
Bumblebee Vol. 1 Retro Rock Garage
This new set — aiming to coincide with the new Bumblebee standalone film coming out this December — features a modern twist on everyone's favorite Autobot sidekick. The retro-themed Transformers set features a 1977 Camaro that transforms into 'Bee, and it also features two exclusive Dinobots – Dairu and Uruaz – that were previously only available in Japan. Even better? The Dinobots turn into mini cassette tapes! Good luck explaining what those are.
Life-Size BB-8 Star Wars Droid
Screen-accurate down to the very last nut and bolt, this 37-inch replica doesn't actually roll or drive around on its own – but it looks amazing. The paint job is designed to show signs of space weather, the figure can be repositioned on its base, and the dome head can be moved all around to create the best selfies in the galaxy. The figure includes a wireless remote that lets you operate the various lights and sounds, and will likely be a limited edition collectible. When you see the price, you'll know why.
Infinity Gauntlet Marvel Tsum Tsum
What the heck is a "Tsum Tsum"? The name means "stack stack" in Japanese, which is appropriate considering these toys (and other like them, featuring plenty of other likenesses, from Star Wars to Pixar) are designed to be propped on top of one another to form a mighty pyramid of heroes. The set comes with a kielbasa-shaped Thanos, with a light-up Infinity Gauntlet! Maybe if he snaps he can make half of your chores disappear? ($20, Jakks Pacific)
Pop! Games: Marvel's Spider-Man
Based on the upcoming PS4 exclusive Spider-Man, available this September, these big-headed Funko Pop! Figures feature the likes of an unmasked Peter Parker, new-gen Spider-Man, Miles Morales, and love interest Mary Jane (who happens to be holding a plush Spider-Man doll!). Team them up to take on the game's villain and leader of the "Inner Demons" gang, the pessimistically-named "Mr. Negative".
MegaConstrux Pokémon Sets
This fall will be a great time to be a PokeMaster. That's because almost two-dozen brand new buildable sets, ranging anywhere from 2.5" to 7" tall, will be unleashed. The character list includes (deep breath): Stufful, Bounsweet, Carvanha, Staryu, Charjabug, Charmander, Caterpie, Bellsprout, Marill, Chinchou, Pidgey, Pichu, Wurmple, Togedemaru, Pikipek, Salandit, Larvitar, RuPaul, Beyonce and Bono. Okay, a few of those aren't Pokémon.
Every product on Fatherly is independently selected by our editors, writers, and experts. If you click a link on our site and buy something, we may earn an affiliate commission.
This article was originally published on