Best Toy Guns That Don't Look Like Real Guns
Because toys should look like toys.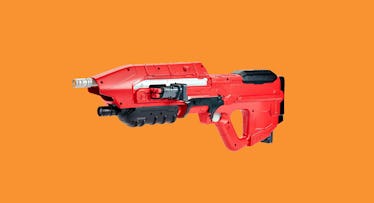 Kids love playing with toy guns. It's a simple fact, ground in evolutionary and social science. As we've written before, pretend gun play doesn't predict whether a kid will actually take any interest in firearms as an adult. Even Nerf arsenals and guns for kids are poor predictors of future behavior. Gun play is, as psychologist Dr. Marjorie Sanfilippo of Eckard University told us, just another kind of play.
But that doesn't mean that playing with toy guns isn't dangerous. Toy guns that get mistaken for real guns lead to terrible circumstances. The best thing you can do for peace of mind is to make sure that those guns look nothing like the authentic article. We mean designs that definitely don't look like guns; not simply settling for an orange tip on an otherwise realistic-seeming soft dart gun.
To help you out, here, then are some of our favorite toy guns that don't look like real guns.
To fire one of the eight darts that sit in the fat chamber, all you have to do is pull the slide on the top rear of the gun back a few inches and press the trigger. Darts fire up to 90 feet, a nice range for a non-battery powered gun.
An elite dart blaster forms the base of the gun. It can fire up to 10 darts one by one or rapidly with slam-fire action. Additionally, kids can add a Mega Dart barrel extension that fires larger darts and a missile launcher that fires even larger foam projectiles. Putting together and taking apart the various components is half the fun with this gun, which is two-and-a-half feet long when all three components are assembled.
Your kids will be dancing the Orange Justice when they get their hands on this Fornite blaster gun. The blaster has an internal clip with a three-dart capacity letting kids fire three darts in a row. It has a detachable barrel to customize for different ways to play, and doesn't need batteries. And it looks more like a lemon than an actual piece of firepower.
An included strap lets you hang this seven and a half pound, 30 inch-long beast on your shoulder as you fire darts up to 100 feet. It has a rotating drum that can hold up to 24 Mega Whistler darts, which are included, and takes 6 D batteries. If you're looking for an extra beefy Nerf gun, this is it.
It's battery-free and can fire as fast as you can pump out darts. And speaking of the darts, it uses BOOMco's Smart Stick technology, which means they easily adhere to specialized targets, like the two that come with the gun.
An automatic firing mode, powered by six AA batteries, takes away the need for a trigger, but you still switch between the larger chambers using a satisfying pump action handle.
The bright red gun holds 8-dart clips, meaning you can fire multiple shots and then quickly reload. The pump handle on the front of the gun needs to be pumped about 12-20 times to fire the whole clip.
And just like in the game, the needles light up when the gun is fired. When you're done playing, the bottom of the gun folds up into the barrel, a cool if not all that useful feature. This gun, small enough to hold and fire with one hand, operates using three AA batteries.
The fully automatic, battery-powered mechanism can fire the 18 darts in the chain in less than 18 seconds, which is pretty rad. The whole thing is 18.5 inches long, but most of that is the barrel, which looks cool, particularly with the top-mounted handle.
Every product on Fatherly is independently selected by our editors, writers, and experts. If you click a link on our site and buy something, we may earn an affiliate commission.
This article was originally published on