6 Ultra-Rugged iPad Cases That Can Withstand Even Your Kid
These cases can protect your electronics from drops, dust, spills and, their ultimate foe, your kids.
by Jon Gugala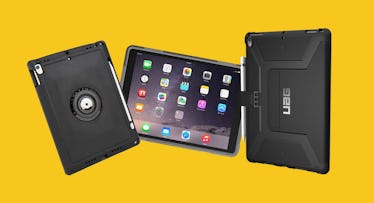 Kids are messy and electronics are delicate. When the two combine, a buffer is required. That's why today's best iPad cases aren't messing around. Drawing from the military, the outdoors, and the building trades (which apparently mimic the needs of the modern parent), these offerings' often hyperbolic names might make you laugh. Don't. With them, devices can practically be dropped off a building or sent through the dishwasher. As tough as your kids are, these cases are tougher.
Urban Armor Gear Metropolis
Hands down the lightest case on this list by almost a quarter of a pound, the Metropolis still meets many of the standards that other offerings do. While drop-tested to military standards, it's also keyboard-compatible, unlike some others here. However, with its weight, you give up some protection, and if your kids spill drinks a lot, there are better waterproof options below. If you're not worried about major spillage, it's an excellent option.
Pelican Vault
This notebook-style case, when closed, is water-resistant. Flip it open for screen access, however, and out pops a stand that can be adjusted to any angle — a big win for long road trips. Its drop-proof protection comes from a five-layer system that also keeps out dirt and grime that also protects the screen. And like all Pelican products, it comes with a lifetime guarantee.
OtterBox Defender
An inner rubber layer and screen protector are standard on most of these options, but the Defender's third, removable polycarbonate shell is what sold us. During transport, it acts as chain mail for your device, but during use, it's a multi-position stand for typing or photo-taking. Made for iPads and Samsung Galaxy Tablets, it also has covers that protect ports from dirt and dust as well as a scratch-preventing shield.
LifeProof Nüüd
Drop-, snow-, water-, and dirt-proof, the Nüüd is ideal for a number of situations, from backseats to backyards. It protects from all well while still allowing access to the camera, volume, and fingerprint scanners. Take note, however, that it is designed to work without a screen protector, and for stand-lovers, there's no option available.
The Joy Factory Axtion Edge M
Made from EVA foam, the Axtion Edge M was designed for rugged outdoor jobs, which means it's also right for parenting. Hollowed corners create a crush zone to absorb impact. The best part: a series of interchangeable, magnetic mounting arms (sold separately) can be used for the car, round or flat surfaces, and walls.
Griffin Survivor Extreme
Taking its name seriously, the Survivor Extreme was engineered to meet or exceed the U.S. military standard for drops, vibration, and shock. Utilizing a four-layer system, it spreads the point of impact to a greater area, keeping your device safe. Liquids and grit can't get through a screen protector and sealed ports and speakers. While ease of use is sacrificed, this is the most rugged and robust on the list.
Every product on Fatherly is independently selected by our editors, writers, and experts. If you click a link on our site and buy something, we may earn an affiliate commission.
This article was originally published on